Pakistan, Kenya, South Sudan


Emergency Response to Locust Crisis
Japanese
1 April 2020(Press Release)
On 30 March 2020, Japan Platform (JPF) decided to launch the emergency response program to regions in East Africa and South Asia affected by the desert locust outbreak, which is causing serious damages on agriculture and crops.
Since January 2020, Pakistan has experienced catastrophic damages on agriculture due to the infestation of desert locusts whose outbreak was also seen in Iran and India. Swarms of locusts have been found in a total of 985,230 hectares of agricultural land surveyed in the country

*1

. Control operations using pesticides have been carried out for about 300 thousand hectares of the surveyed area*1. However, since pesticides have adverse effects on people's health and crops need to be disposed of after being sprayed with pesticides, more and more farmers are losing their sources of income. The locusts entering breeding season is expected to cause further damages on the main agricultural production areas of the country.
Some countries in East Africa have experienced immense damages due to the outbreak of locusts infesting their farmlands and rangelands since December 2019. In one day, a one-square-kilometer swarm of locusts can consume the equivalent of food for 35,000 people

*2

. Especially in Kenya, where they are experiencing the heaviest pest crisis in over 70 years

*2

, locusts have already damaged 70,000 hectares of agropastoral land in northern and central parts of the country

*3

. In northern Kenya where they have had repeated droughts and floods in recent years, over 3 million people are already at risk of being highly food insecure, but this figure is expected to get even worse

*3

.
In South Sudan, where 6.5 million people or 55% of the population face severe acute food insecurity and other problems due to conflict-related political instability and natural disasters, this locust outbreak is expected to further threaten the nation and the livelihood of its people. International organizations have pointed out the need to act swiftly in order to prevent further deterioration of food insecurity and malnutrition among children

*4

.
At JPF, we have taken into account the severity of damages caused by the locust outbreak in the agricultural nations of Pakistan and Kenya, the critical impact on their economy, and the food insecurity being exacerbated by this crisis in the already vulnerable nation of South Sudan, and have determined to implement assistance projects in partnership with our member NGOs. Activities will include distributions of seeds and seedlings, provision of pesticides, support for farmers and agricultural communities, and relevant trainings for those affected by this crisis.
Due to the limitations imposed on international and local travel as a result of the spread of the novel coronavirus, these projects will be implemented by local partner organizations as a general rule.
JPF will coordinate with local government and our member NGOs to provide assistance that meet the needs of people in the local communities. Updates on this program will be posted regularly on JPF website and on our Facebook page.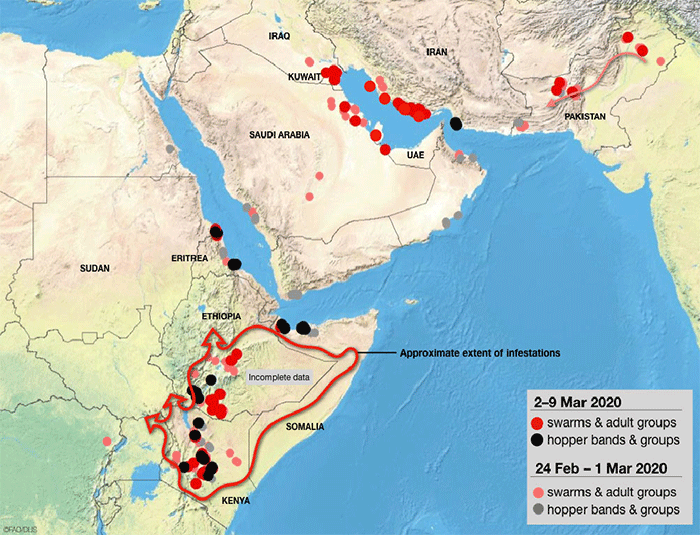 Desert Locust Infestation Map *5
※1:FAO, Locust situation in Pakistan ( Feb, 2020) - National Emergency, 27 February 2020.
※2:ACTED, Kenya: Desert Locust Outbreak Rapid Needs Assessment, 12 February 2020
※3:FAO, Desert Locusts ground surveillance intensified, 13 February 2020.
※4:FAO, South Sudan-Situation report March 2020, March 2020
※5:FAO, http://www.fao.org/ag/locusts/common/ecg/75/en/200309updateE.jpg, 16 March 2020.
Program Overview
| | |
| --- | --- |
| Term | 1 April 2020 - 30 November 2020 |
| Budget | 230 million yen (Government Subsidies) |
| Locations | Pakistan, Kenya, South Sudan |
| Content | Food distribution, seeds and seedlings distribution, pesticide provision, support for farmers and agricultural communities, implementation of relevant trainings, etc. |
| Organizations (Expected) | CWS Japan, JEN, Peace Winds Japan (PWJ), etc. |