Syria, Jordan, Iraq, Lebanon, Turkey

Humanitarian Response

November 2011~
Latest Country Situation Report 19th, March, 2019
We continue to provide comprehensive aid - including WASH, food, CRIs, and education - to those suffering in the prolonged crisis and in need of assistance
Currently, the number of people who have left their homes behind, as they fled conflict and persecution, has reached record high in the decades since World War II (*1). In particular, situation surrounding Syria and Iraq has been especially chaotic as it has entered its sixth year with no end in sight. 4.8 million Syrians have left the country and become refugees, while within Syrian borders, about 13.5 million people, including 6.5 million internally displaced persons (IDPs), are in need of assistance (*1). Since the beginning of this humanitarian crisis, a total of over 400,000 have lost their lives (*2). In Iraq, over 10 million people, including 3.3 million IDPs, are in need of assistance (*1).
Japan Platform (JPF) began providing assistance in November 2012 for those who have become internally displaced as a result of the humanitarian crisis in Syria and for the refugees who have fled to neighboring countries. In June 2014, we also began providing assistance for IDPs within Iraq. In order to respond more effectively, we are continuing to implement life-saving assistance activities as an integrated Iraq-Syria Humanitarian Crisis Response Program. During the 2016 fiscal year, 14 JPF member NGOs provided assistance in Iraq, Syria, and in three neighboring countries (Lebanon, Jordan, and Turkey), implementing life-sustaining projects for those who are even unable to secure enough food in the conflict. These projects included life-sustaining measures such as food distributions, provisions of safe drinking water and development of WASH (water, sanitation, and hygiene) environments, and life-saving measures such as distribution of emergency items. Additionally, our member NGOs also implemented improvements on learning environments and provided psychosocial care for the children who have been greatly hurt by this conflict.
Event
In June 2015, we co-hosted the fourth symposium with the United Nations High Commissioner for Refugees (UNHCR) Representation in Japan called "The Syria Crisis: It Could Be Me, It Could Be You" in Tokyo. The symposium welcomed not only academic experts and representatives from NGOs, government, and UN agencies, but refugees, the business community, media, students, and civic society as we engaged in discussions on the participation of new humanitarian aid actors, new ways of providing aid, and how we respect tolerance, solidarity, and diversity. JPF will continue to implement assistance in response to the needs of those within Iraq and Syria, who have had to suffer while living in difficult conditions, as well as the needs of the refugees experiencing prolonged displacement in neighboring countries. Also, we will continue our efforts to raise public awareness in Japan of the conditions on the ground.
*1 Syrian Arab Republic: Humanitarian Snapshot (as of 30 June 2016)
*2 "More than 400000 were killed in 63 months of the Syrian revolution," Syrian Observatory for Human Rights; 28 May, 2016
*3 Middle East, North Africa, Afghanistan and Pakistan: Humanitarian Snapshot (as of 30 June 2016)
Iraq -Syria Humanitarian Response Plan March 2017-February 2018
NGO's Project : Peace Winds Japan (PWJ)
Aspiring to bring back a safer living environment and everyday life as much as possible
PWJ delivers assistance to Syrian refugee and IDP camps in three governorates within the Kurdish Autonomous Zone in northern Iraq. Its programs include building schools, distributing essential items, setting up water supply networks and providing health checkups at schools inside camps. To contribute to the improvement of the living conditions of those living in refuge, PWJ provides refugees living in tents with materials and technical advice to improve the shelters that they live in. It also has set up an oven for baking bread in kitchens that IDPs share to bring back a sense of normalcy to their lives. PWJ also provides necessary assistance to communities that are hosting refugees and IDPs to reduce their burden.
Voice from the Field
Muhammad Radwan living in an improved shelter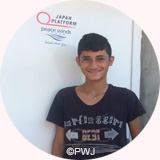 It's a lot safer now compared to before. It was easy for bugs and small animals to come into the tent that we used to live in, and there were two times where I killed snakes that came into the tent. After our shelter was improved, I no longer have to worry about that anymore. The inside is cool and there is enough space to live in. Everyone in my family is happy. (Beneficiary of a PWJ program)