Palestine/Gaza


Humanitarian Assistance for Palestine/Gaza
Japanese
Voices from the Field
17th November 2021
©CCP
The voices of beneficiaries of JPF member NGOs' support activities are posted in the "Activities and Voices from the Field" tab on the Japanese language program page.
Monitoring and Evaluation
21st October 2021
JPF member NGOs are continuing their support projects in the health and medical fields in the Gaza Strip. JPF also conducts monitoring and evaluation of each project, and the evaluation reports can be read here.
CCP's Support for People with Disabilities
September 2021
Campaign for Children of Palestinian (CCP), a JPF member NGO, provides sustainable support for the reintegration of people with disabilities into society in the Gaza Strip, Palestine, as well as capacity building projects for medical institutions and medical personnel. CCP provides various kinds of support such as repairing rehabilitation facilities, training medical personnel, and opening vocational training courses such as cooking and confectionery.
PWJ's Support in the Gaza Strip
August 2021
Peace Winds Japan (PWJ), a JPF member NGO, is providing health and nutrition support to vulnerable preschool children and their families and kindergartens in the Gaza Strip.
Although anemia and stunting are common among children under five in the Gaza Strip, early detection and treatment are difficult because preschoolers have few opportunities to receive health checkups.
PWJ provides health checkups, nutritional treatment, and training for parents on health and nutrition.
CCP's Support in the Gaza Strip
24th July 2021
Pregnant women's checkup ©CCP
Campaign for Children of Palestinian (CCP), a JPF member NGO, is conducting activities in the Gaza Strip, Palestine, including maternal and child health care projects, support for the reintegration of the disabled into society, and training for medical personnel.
In the Gaza Strip, where the humanitarian situation is worsening due to the Israeli airstrikes in May, CCP will continue to provide support to the vulnerable people.
Regime Change in Israel and More Airstrikes
28th June 2021
In Israel, the Netanyahu government, which had been in power for more than a decade, stepped down and the Bennett government, an eight-party coalition, came into power on June 13. However, on June 16, immediately after the inauguration of the new government, it was announced that the Israeli military bombed the Gaza Strip. We hope that the emergence of a new government with the participation of far-right parties will not lead to increased confrontation and tension between Israel and Palestine, and furthermore, worsen the humanitarian crisis in Gaza.
Conflict in Jerusalem
10th May 2021 11:00
In Jerusalem, Palestinians and Israeli authorities have been clashing every day since May 7, with stone throwing by Palestinians and water spraying by Israeli police forces, resulting in injuries on both sides.
Click here for the article
https://www.bbc.com/japanese/57044967
In JPF's "SDGs in World Wide Web", we introduce the words of a young mother who said, "Don't ask my kids about their future dreams." In order for Palestinian residents to speak freely about their dreams, it is essential for both sides to realize peaceful and safe coexistence.
Online debriefing by CCP
20th April 2021 16:00
As part of JPF humanitarian assistance for Palestine/Gaza program, JPF member NGO, Campaign for Children of Palestinian (CCP), is implementing the "Sustainable Support for Reintegration of People with Disabilities into Society and Capacity Building Project for Medical Institutions and Medical Personnel". CCP will hold an online debriefing session.
Date and time: Wednesday, April 28, 2021, 20:00 - 21:00
Capacity: 80 people
Participation Fee: Free
Application deadline: Wednesday, April 28, 2021, 6:00 p.m.
For more information
https://ccp-ngo.jp/news/2021/2021041012417.html
Come and join us!
Program Term Extension
21st March 2021 21:00
JPF will extend its Humanitarian Assistance Program for Palestine/Gaza until 31 March 2022 and will conduct monitoring and evaluation, while our member NGOs implement health improvement projects.
Like other parts of the world, Palestine has also been affected by the spread of the new coronavirus and vaccine supply has been an issue there, but there was actually something positive about the changes brought forth by the pandemic. Before the coronavirus pandemic, Japanese language learners in the West Bank of Palestine could only study on their own and could not be directly taught by Japanese language teachers. However, online classes have been introduced in Japanese language education for neighboring countries, and this made it possible for students in the West Bank to access remote classes taught by Japanese language teachers.
Vaccines Arrive in the Gaza Strip
22nd February 2021 14:36
More than 50,000 COVID-19 cases have been confirmed in Palestine, including the Gaza Strip, where JPF's humanitarian assistance program continues to support healthcare services to mothers and children and to people with disabilities.
In early February, the Palestinian Authority has been provided the COVID-19 vaccines from the Russian government, and they are considering additional vaccine procurement through the COVAX vaccine-sharing program as well. However, the Israeli government had initially blocked the vaccines to the Gaza Strip, which is under the effective control of the Hamas administration. On 17 February, after a delay from the original schedule, vaccines dosages for 1,000 people were allowed into Gaza for the first time.
CCP's Assistance in the Gaza Strip
30th January 2021 21:00
JPF member NGO Campaign for Children of Palestinian (CCP) is currently implementing a maternal and child health project for vulnerable households in the Gaza Strip.
In addition to providing health services to women before and after childbirth, medical examinations for newborns and infants, and distribution of medicines and medical supplies, CCP also conducts workshops to educate local nurses, midwives, and community residents.
Humanitarian Assistance in Palestine: Beneficiary voices and staff experiences in the field
29th December 2020 7:30
Sewing course participants ©CCP
As part of JPF's Humanitarian Assistance for Palestine and Gaza, JPF member NGOs Campaign for the Children of Palestine Japan (CCP) and Peace Winds Japan (PWJ) are currently implementing projects.
When you click on the Program Overview tab, you will see us introducing the voices of participants in the sewing course in the "Voice from the Field."
Also, in the SDGs series, a JPF staff member has written about their experiences in Palestine. Please click here for the SDG series posts from the 19th and 26th November.
CCP Assisting Persons with Disabilities
26th November 2020 5:30
©CCP
As part of the JPF program, JPF member NGO Campaign for the Children of Palestine Japan (CCP) is implementing an assistance project for persons with physical disabilities and illnesses in the Gaza Strip, their families, and the community healthcare system to help people return to full participation in the community.
As Gaza has been under Israeli military blockade since 2007, movement of people and goods have been severely restricted and economic activity has stagnated. Gaza must rely on aid from the international community for medical supplies, and there is also a shortage of medical facilities. As the number of injuries caused by the conflict has increased, the number of persons with physical disabilities has also risen. As part of their assistance project, CCP provides physical therapy treatment for such persons with disabilities.
PWJ Supporting Preschoolers
28th October 2020 23:30
As part of the JPF program, JPF member NGO Peace Winds Japan (PWJ) is currently providing health and nutrition support to vulnerable preschoolers and their families in the Gaza Strip.
According to studies conducted by the Palestinian Ministry of Health and others, more than 30% of children under the age of five in the Gaza Strip are anemic and 11% has had their growth stunted. However, preschool-age children have little opportunity to receive health check-ups and many parents have little access to health and nutrition information.
PWJ conducts health examinations for preschool children in Gaza and refers any nutritional problems they identify to local partner organizations in order to support the children's treatment. PWJ also provides health and nutrition awareness trainings for parents. Due to the effects of the new coronavirus, there are restrictions on movement and activities, but PWJ is still providing support to this population creatively through such measures as remote training sessions.
CCP's Assistance Activity in Gaza
26th September 2020 6:00
JPF member NGO Campaign for Children of Palestinian (CCP) is currently implementing a maternal and child health project for vulnerable households in the Gaza Strip.
Gaza has a fragile healthcare system and CCP provides support to vulnerable households that do not have access to public assistance. Prenatal health services that they provide include ultrasound examinations, blood tests, and distribution of medical supplies. Postnatal health services include checking the health statuses of mothers and newborns immediately after giving birth, and providing childcare guidance to help mothers and their children stay healthy even in households that are suffering from economic hardship.
CCP's Maternal and Child Health Assistance
30th August 2020 7:00
JPF member NGO Campaign for Children of Palestinian (CCP) is currently implementing a maternal and child health project for vulnerable households in the Gaza Strip. CCP is procuring necessary medicines, nutritional supplements, and hygiene products for clinics, including items to fight against the new coronavirus, in order to support the provision of health care services to prenatal and postnatal women, newborns, and infants.
31st July 2020 20:00
Nickolay Mladenov, the UN Special Coordinator for Middle East Peace Process, said that although restrictions on movement are to be reapplied in Israel and Palestine, it has been very challenging responding to the growing number of COVID-19 cases in the West Bank and preventing spread in the Gaza Strip because of the break down in cooperation between Israel and Palestine. Mladenov also stressed that while the Unite Nations will continue to provide humanitarian assistance, the responsibility for protecting the lives and livelihoods of the people of the region lies with the Israeli and Palestinian leaders, who must make it their top priority to control the spread of infection.
UN News: https://news.un.org/en/story/2020/07/1068791
30th June 2020 20:00
When Israel was founded in 1948, Palestinians who lost their homeland and homes fled to the West Bank and Gaza, and to Jordan, Lebanon, and other surrounding countries. The number of those who fled exceeded 700,000, and for more than seven decades since then, they are living as refugees. Many are stateless, and while it depends on the country in which they ended up, they are leading restricted lives without paths to citizenship and limitations on work.
Please visit CCP Japan's website to read more about the issues surrounding Palestine, which many may have heard about but do not know in detail:
- About the issues surrounding Palestine: https://ccp-ngo.jp/palestine/
- History of the issues surrounding Palestine: https://ccp-ngo.jp/palestine/palestine-information/
- Conditions of Palestinian refugees: https://ccp-ngo.jp/palestine/refgees-information/
26th May 2020 5:00
COVID-19 cases have been confirmed in Palestine. UN Office for Coordination of Humanitarian Affairs (UNOCHA) has reported 567 COVID-19 cases, 464 of whom have recovered while 4 have died (as of 19th May). The State of Emergency has been declared until early June, and people are refraining from going out. However, there is a critical shortage of test kits, personal protective equipment (PPE), and respirators, and international support is needed.
OCHA Situation Report No.9 can be read here: https://reliefweb.int/sites/reliefweb.int/files/resources/sitrep_9_covid-19.pdf
30th April 2020 22:00
In Gaza where JPF is implementing assistance, people are tightening their guard against the spread of coronavirus (COVID-19). In highly densely populated refugee camps, refugees are asked to stay at home. While the UN Relief and Works Agency for Palestinian Refugees in the Near East (UNRWA) says the number of COVID-19 cases in Gaza is low, there is insufficient medical capacity and not enough tests, so they are raising alarm for the potential danger of the virus spreading in this type of environment.
Read the UN News here: https://news.un.org/en/audio/2020/04/1061702
27th March 2020 5:00
In Gaza where a JPF member NGO is implementing its project, the Palestinian Ministry of Health in Gaza confirmed their first cases of COVID-19 in Gaza. It is reported that those who tested positive were two Palestinians returning to Gaza from Pakistan. As conflict with Israel has resulted in strictly controlled movement of people into and out of Gaza and a weak health care system, there are concerns as to the impact on the residents if COVID-19 continues to spread.
Asahi Shimbun's digital article can be read here: https://www.asahi.com/articles/ASN3Q3F8PN3QUHBI00J.html
29th February 2020 21:00
According to the February 2020 UNHCR operational update on Yemen, there are 24 million people in need of aid in the nation, and 3.65 million people have been displaced since 2015, where over 80% of IDPs (internally displaced persons) have been displaced for more than a year. Additionally, since the beginning of 2019, 66,000 families have been newly displaced.
In February, UNHCR and its partner organization launched a de-worming campaign in Aden Governorate to mitigate anemia and micronutrient deficiency among vulnerable children. They visited families door-to-door and distributed de-worming tablets to refugees, IDPs, and host community children.
Read the full UNHCR operational update here.
29th January 2020 20:28
Ms. Ursula Mueller, who serves as Assistant Secretary-General for Humanitarian Affairs and Deputy Emergency Relief Coordinator at the UN Office for the Coordination of Humanitarian Affairs (OCHA) and has visited JPF last November, was in Israel and Palestine this month. Ms. Mueller visited the region for six days, met with those who have been affected by the political conflict, and called on the international community to provide sustained assistance to the region.
UN OCHA's article can be read here: https://www.unocha.org/story/deputy-humanitarian-chief-concludes-visit-israel-and-opt
UN News in Brief can be found here: https://news.un.org/en/audio/2020/01/1055621
Article on Ms. Mueller's visit to JPF can be found here.
26th December 2019 19:30
On December 24, we held a meeting at JPF to prepare for the third-party monitoring and evaluation (M&E) of our program in Palestine/Gaza. JPF's M&E Division, a Turkish M&E specialist who consults with JPF, and staff from JPF member NGOs gathered as they communicated on Skype with the external expert who will be in charge of project M&E in Palestine/Gaza, discussing the contents and methods of third party M&E for this program.
We consider monitoring and evaluation to be extremely important for transparency and accountability of our programs. Moreover, M&E's role is critical in clarifying the program's outcomes and challenges so that the program can proceed more promptly and effectively in the future.
28th November 2019 21:00
"How is Palestine now?" is a topic that is not often reported in the Japanese media. At the upcoming talk, journalists who have reported on Palestine and researchers who have stayed there will report on the latest situation in Palestine. Mr. Toshikuni Doi, who will be hosting this event, has participated as one of the panelists in JPF's joint symposium with UNHCR titled "Syria Crisis: One Humanity, Shared Responsibility," which was held on 20th June 2016 for World Refugee Day.
Date & Time: Sunday 1st December 2016 13:30-16:30 (with intermission)
Venue: Convention Hall (basement floor), Hibiya Library, Tokyo
Facilitator: Toshikuni Doi, Palestine Documentary Society
[Reports]
1. Yasunori Kawakami (Journalist, Former Director of Middle East Affairs at Asahi Shimbun): "Current State of Palestinian Refugees in Lebanon"
2. Hiroyuki Suzuki (Palestinian Studies, Project Associate Professor, University of Tokyo): "State of Palestinian-Israeli Affairs Since the Israeli General Election"
3. Toshikuni Doi (Journalist): "Latest Documentary Film, 'Living in Gaza 2019' (Abbreviated Version)"
[Panel Discussion, Q&A]
Mr. Yasunori Kawakami, Mr. Hiroyuki Suzuki, and Mr. Toshikuni Doi
30th October 2019 22:00
A 14-part series of report from Mr. Toshikuni Doi, an independent journalist and film director, called "Gaza Now: Summer 2019" can now be read on the Yahoo! Japan News site. Mr. Doi has participated as one of the panelists in JPF's joint symposium with UNHCR titled "Syria Crisis: One Humanity, Shared Responsibility," which was held on 20th June 2016 for World Refugee Day.
Please read more about the 2016 joint symposium here: https://www.japanplatform.org/.../syria_symposium.../report.html
In this reporting series, Mr. Doi delves into topics such as "Families in poverty surviving the war," "Demonstrators at the border," "Power supply in Gaza," and "Young people trying to flee Gaza." Through his reporting, we hope you find out more about the realities in which the people of Gaza, Palestine, live day to day.
Toshikuni Doi's reporting: https://news.yahoo.co.jp/by.../doitoshikuni/20190925-00144127/
List of Toshikuni Doi's articles (Parts 1 through 14): https://news.yahoo.co.jp/byline/doitoshikuni/
30th September 2019 23:00
©CCP
With funding from JPF, Campaign for Children of Palestine (CCP Japan), a JPF member NGO, has been running a program in Gaza to aid the physical recovery of those with disabilities or diseases and to train aid workers.
For example, Suad (age 3), a girl living in Gaza, was suffering from rickets, which is a condition caused by vitamin D deficiency. CCP Japan provided vitamin and calcium supplements as well as medicine to prevent infections and boost her immune system, and they were able to confirm improvements in her condition based on changes in her weight and height. Her parents also received guidance on how to prepare meals that were highly nutritious and effective as well as the importance of exposure to daylight.
During their session at Global Festa Japan 2019 (day 1), CCP Japan reported on their programs in Gaza and Lebanon. They introduced the content of their programs, including medical aid for the children and mothers of Gaza as well as winter aid for refugees in Lebanon, and explained why they are necessary.
31st August 2019 23:00
General health checks in Gaza (1) ©PWJ

General health checks in Gaza (2) ©PWJ
The large-scale attack that occurred between July and August of 2014 left deep scars on the lives, livelihoods, education and economy of the people of Gaza who were already vulnerable, and approximately 2.5 million people who were affected still require emergency aid.
Japan Platform (JPF) has been delivering aid since August 2014, and has provided food, shelter and emergency material aid as well as psychosocial assistance to children, rehabilitation to people who have become disabled as a result of the conflict and assistance in improving livelihoods.
Aid from the international community will continue to be needed, and JPF will maintain its aid so that the conditions of the people in Gaza will not deteriorate even further.
▼In our annual report for FY 2018, we introduce our programs for both inside and outside Japan including Gaza, Palestine. Please take a look!
https://www.japanplatform.org/lib/data/report/2018_ar.pdf
31st July 2019 22:00
On July 30, the United Nations Relief and Works Agency for Palestine Refugees in the Near East (UNRWA) posted an article on Dr. Shaker, a doctor who had worked for the UNRWA health program in Gaza for thirty years.
When Dr. Shaker started working for UNRWA in 1989, there were only six doctors to provide medical care to the 80,000 Palestinian refugees. Currently, 26 doctors working in three health centers provide primary health care to the approximately 200,000 Palestinian refugees living in Rafah, Gaza.
One of the health centers in Rafah used to be a subcenter that only provided maternity services, but Dr. Shaker and his colleagues drew up plans and raised donations to turn it into a full-scale health center that provides primary health care. Today, it is one of the major health centers that provides basic medical care to more than 150,000 people.
▼See the UNRWA article here
http://bit.ly/2ZTKuO9
28th June 2019 19:30
On 25th June, United Nations Secretary-General António Gutteres addressed the United Nations Relief and Works Agency for Palestine Refugees in the Near East (UNRWA) Pledging Conference and praised the agency for its nearly 70 years of efforts in running over 700 schools and for providing over half a million Palestinian refugee children with free education and high-quality health care services.
Following the remarks from senior UN officials, two teenage students spoke about their daily experiences at school and the importance of schools as representatives of the 536,000 students currently attending UNRWA schools in Gaza and the West Bank. Hanan, a female student, stated, "For the Palestinian children, the long holidays after the end of the school year is not fun for us, because we know that education is the most important thing that we have." Hatem, a male student, has lived through three wars already at age 15 and said, "Scenes of war and destruction are in my head and haunt me in my sleep." He told the audience that education has been the only hope for a better future for him, and that even during the darkest times, he has learned about his rights.
Visit the following page for UN News: https://news.un.org/en/story/2019/06/1041251
9th May 2019 19:30
On 29 April, Rosemary DiCarlo, Under-Secretary-General for Political and Peacebuilding Affairs for the United Nations, stated in the briefing at the United Nations Security Council on the situation in the Middle East that UN's response to the humanitarian, financial, and political crisis in Palestine has not yet yielded sufficient outcomes due to the continued political conflict in the region.
Under-Secretary-General DiCarlo also spoke about the progress UN did make with the humanitarian and economic assistance programs implemented in Gaza to help stabilize the region. In the past year, UN has raised US$110 million for fuel, health, water, sanitation, and employment programs. Additionally, it has contributed US$4.6 million for the delivery of essential drugs and performance of 9,500 surgeries.
18th April 2019 19:30
Students learning graphic design ©PWJ
We would like to introduce you to a humanitarian assistance project* in Palestine/Gaza by a JPF member NGO. Last year, Peace Winds Japan (PWJ) launched a vocational training project for youths in the Gaza district of Palestine. Instructors have been selected, necessary equipment has been procured, and three vocational training centers have launched with training starting in March 2019.
A student enrolled in the solar power management systems course stated, "Solar power panels are starting to spread throughout Gaza, and this is a growing industry, so I chose this course. I applied with hopes of getting skilled and being employed." Another female student enrolled in the smart phone management course noted, "My parents are supportive of me choosing this course, but some friends told me, 'This is something a man would do, it's not for you.' Some people believe that women are not capable of anything, but I am determined to prove them wrong by starting my own business."
In Gaza, many young people of employable age who are eager to work still cannot find employment. Under these difficult circumstances, PWJ's project is planting hope for these young people's futures.
*This is not a JPF grant project.
For a write-up on this project by PWJ, please visit here: https://peace-winds.org/activity/gaza/15527
18th March 2019 19:00
Israeli security forces have responded to many who have been exposed to injuries due to tear gas, rubber bullets, or live ammunition and have experienced immeasurable fear since the beginning of this year. Michael Lynk, who is the Special Rapporteur on human rights in the Palestinian Territory, has raised alarm for these conditions and said that there is a cycle of bloodshed occurring there.
On 8th February 14- and 17-year-old boys have been killed while UN protection activities were ongoing, and only four days later, a 16-year-old boy was hit by a tear gas canister. Mr. Lynk addressed the Human Rights Council, which appointed the Commission of Inquiry last May, and presented the findings that there are serious violations of international human rights and humanitarian laws. In Palestine/Gaza, 35 children have already been killed, in addition to paramedics and journalists. Additional 6,000 people have been injured during demonstrations.

Read the UN report here: https://news.un.org/en/story/2019/03/1034121
5th February 2019 19:00
Pierre Krähenbühl, the Commissioner-General of the United Nations Relief and Works Agency for Palestinian Refugees in the Near East (UNRWA), raised alarm that the Palestinian refugees' basic needs have deteriorated since 2001 in Gaza, the West Bank, Jordan, Lebanon, and Syria. UNRWA provides food assistance to a million people in Gaza, or half the population, every three months. However, due to the blockade and the conflict, the Gaza economy has been wiped out and assistance is harder to reach those in need.
It has also become less safe for the residents, and violent attacks have been on the rise, including those that involve shootings. In 2018, the number of violent incidents increased by 57% compared to 2017 and 175% compared to 2016, where the residents are at risk of being victimized every day.
Read the UN report here: https://news.un.org/en/story/2019/01/1031562
19th January 2019 22:00
Matthias Schmale, Director of Operations in Gaza for the United Nations Relief and Works Agency for Palestinian Refugees in the Near East (UNRWA), raised alarm that the funding cuts to the agency's operations threatens children's opportunities to learn. Eva, a girl who attends an UNRWA school stated, "The school is trying as much as it can to teach us in a hands-on method. I have dreams to be something big in the future, but I have to cut those dreams down because of the situation we live in now."
Read the UN report here: https://news.un.org/en/story/2019/01/1029792
Latest Country Situation Report 16th, January, 2019
Towards a safer community and mitigating instability in the local community infrastructure, we have focused on providing assistance to women, children, person with disabilities, and other vulnerable populations in Gaza, the occupied Palestinian territories (oPt)
Starting in July 2014, Gaza experienced over 50 days of armed conflicts which have begun with a massive military attack by the Israeli forces. At JPF, we launched the Palestine/Gaza Humanitarian Assistance Program in August 2014, and continued to extend the program a year at a time while we provided assistance in food security, emergency relief items, , WASH (water & sanitation), agriculture, medical assistance, child protection and livelihood. Particularly, We have paid special attention to those who were considered socially vulnerable such as women, children, and persons with disabilities. tOur program focuses on preventing further deterioration of their living conditions as well as promoting resilience of the people in Gaza.
3 years have already passed since the conflict, but reconstruction in Gaza has been stalled due to various reasons including Israeli economic blockade, and socio-political conditions remain chaotic. Given these points, JPF continues our assistance until the end of January 2018.
About 1.3 million people suffered from around 50 days of bombing.
We have implemented activities that support the local community infrastructure and livelihood of those whose lives were impacted by the blockade strictly limiting the movement of people and goods.
On July 7, 2014, massive military attack by the Israeli forces began in Gaza after three Israeli young men were abducted and killed in the West Bank in mid-June, followed by an abduction and killing of a Palestinian boy in July. The armed struggle continued for over 50 days. This has resulted in the death and injury of many civilians, and affected the lives of about 1.9 million residents of Palestinian territories. This is why Japan Platform (JPF) decided to mobilize the "2014 Palestine/Gaza Humanitarian Aid Program" on July 30, 2014.
During the Initial Response Period of about six months from August 10, 2014 to January 31, 2015, 4 JPF Member NGOs, with local partner organizations, distributed goods -- including food, clothes, and school supplies -- and provided warm meals, medical aid, child protection, and agricultural aid. (1 Member NGO only conducted research during this time.) As there are very strict limitations on the movement of resources, equipment, and people into and out of Gaza, not enough aid has been delivered to those in need, and there remains the need for humanitarian aid.
At JPF, we have taken into account these ongoing conditions and has been continuing this program until January 2018.
NGO's Project : Campaign for the Children of Palestine (CCP Japan)
Striving to improve the health and psychological state of children injured in the conflict
Since the spring of 2015, CCP has continued to deliver assistance to children who have been injured and disabled as a result of the 2014 Israel-Gaza conflict. In fiscal year 2016, multiple medical teams consisting of doctors, nurses, physical therapists and psychologists, visited the homes of 500 children living all across Gaza, allowing children who were previously neglected due to difficulties in accessing medical institutions, to receive regular and intensive treatment, rehabilitation, wheelchairs and mobility aids. CCP Japan has assisted more than 750 children in the past two years, enabling many children to stand or walk again, and return to school. It will continue its programs, striving to improve the health and psychological state of children and enable them to reintegrate into society.
Voice from the Field
Rehabilitation and psychological support has enabled me to walk again and be more positive!

Ibrahim (age 12)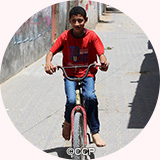 When I first lost my left leg from below the knee in a bombing, I took my stress out on my family and would sometimes break or throw whatever I could get my hands on. I stayed away from my friends too. But after going through a year and a half of rehabilitation with a physical therapist* and with all the psychological support that I've received*, I am able to go to school again! Although I've lost my leg, I can stand up, walk with a prosthetic leg and ride a bike too. I think this has also made me very positive. At school, I like language and physical education, especially soccer. I hope I can be the goalkeeper someday.