Humanitarian assistance

August 2014~
Latest Country Situation Report 16th, January, 2019
Towards a safer community and mitigating instability in the local community infrastructure, we have focused on providing assistance to women, children, person with disabilities, and other vulnerable populations in Gaza, the occupied Palestinian territories (oPt)
Starting in July 2014, Gaza experienced over 50 days of armed conflicts which have begun with a massive military attack by the Israeli forces. At JPF, we launched the Palestine/Gaza Humanitarian Assistance Program in August 2014, and continued to extend the program a year at a time while we provided assistance in food security, emergency relief items, , WASH (water & sanitation), agriculture, medical assistance, child protection and livelihood. Particularly, We have paid special attention to those who were considered socially vulnerable such as women, children, and persons with disabilities. tOur program focuses on preventing further deterioration of their living conditions as well as promoting resilience of the people in Gaza.
3 years have already passed since the conflict, but reconstruction in Gaza has been stalled due to various reasons including Israeli economic blockade, and socio-political conditions remain chaotic. Given these points, JPF continues our assistance until the end of January 2018.
About 1.3 million people suffered from around 50 days of bombing.
We have implemented activities that support the local community infrastructure and livelihood of those whose lives were impacted by the blockade strictly limiting the movement of people and goods.
On July 7, 2014, massive military attack by the Israeli forces began in Gaza after three Israeli young men were abducted and killed in the West Bank in mid-June, followed by an abduction and killing of a Palestinian boy in July. The armed struggle continued for over 50 days. This has resulted in the death and injury of many civilians, and affected the lives of about 1.9 million residents of Palestinian territories. This is why Japan Platform (JPF) decided to mobilize the "2014 Palestine/Gaza Humanitarian Aid Program" on July 30, 2014.
During the Initial Response Period of about six months from August 10, 2014 to January 31, 2015, 4 JPF Member NGOs, with local partner organizations, distributed goods -- including food, clothes, and school supplies -- and provided warm meals, medical aid, child protection, and agricultural aid. (1 Member NGO only conducted research during this time.) As there are very strict limitations on the movement of resources, equipment, and people into and out of Gaza, not enough aid has been delivered to those in need, and there remains the need for humanitarian aid.
At JPF, we have taken into account these ongoing conditions and has been continuing this program until January 2018.
NGO's Project : Campaign for the Children of Palestine (CCP Japan)
Striving to improve the health and psychological state of children injured in the conflict
Since the spring of 2015, CCP has continued to deliver assistance to children who have been injured and disabled as a result of the 2014 Israel-Gaza conflict. In fiscal year 2016, multiple medical teams consisting of doctors, nurses, physical therapists and psychologists, visited the homes of 500 children living all across Gaza, allowing children who were previously neglected due to difficulties in accessing medical institutions, to receive regular and intensive treatment, rehabilitation, wheelchairs and mobility aids. CCP Japan has assisted more than 750 children in the past two years, enabling many children to stand or walk again, and return to school. It will continue its programs, striving to improve the health and psychological state of children and enable them to reintegrate into society.
Voice from the Field
Rehabilitation and psychological support has enabled me to walk again and be more positive!

Ibrahim (age 12)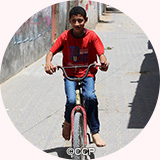 When I first lost my left leg from below the knee in a bombing, I took my stress out on my family and would sometimes break or throw whatever I could get my hands on. I stayed away from my friends too. But after going through a year and a half of rehabilitation with a physical therapist* and with all the psychological support that I've received*, I am able to go to school again! Although I've lost my leg, I can stand up, walk with a prosthetic leg and ride a bike too. I think this has also made me very positive. At school, I like language and physical education, especially soccer. I hope I can be the goalkeeper someday.