Pakistan


Winterization Assistance to Pakistan Earthquake
Japanese
On 2nd December 2019, Japan Platform (JPF) decided to launch the emergency winterization assistance program for the affected people of the earthquake that occurred in September in Pakistan, who have been forced to live outdoors and in tents.
<Overview>
On 24th September 2019, a magnitude 5.8 earthquake struck the Azad Jammu and Kashmir (AJK) Region of Pakistan. There were two more aftershock tremors on 26th September and 6th October in the same region, causing great destruction to Mirpur and Bhimber Districts within the AJK Region*1. As of 18th October, according to the Pakistani government report, the earthquake affected 785 people (including 39 deaths and 746 injuries), a total of 7,465 homes (including 1,756 completely destroyed and 5,709 partially destroyed), and 141 buildings (9 completely destroyed and 132 partially destroyed)

*1

.
In response to the damages caused by the earthquake, the Pakistani National Disaster Management Authority (NDMA) and State Disaster Management Authority (SDMA) were cooperating with international agencies and NGOs in its relief and assistance activities. However, with the temperatures rapidly dropping since late October in the affected region, there is now a newly arisen need to help prepare them for winterization as part of emergency relief activities.
In Mirpur and Bhimber Districts in the AJK Region, many whose homes sustained damages are living outdoors in regular non-winter tents. With average low temperatures dropping to single digits Celsius starting in December, it is difficult to survive the winter in regular tents, and there are concerns that their health will deteriorate. With greater need for cold-proof tents at this time, even though the Pakistani government had decided to distribute 6,000 such tents, the communities were to end up at least 3,500 short (according to numbers calculated as of before 15th November). 
Under these circumstances, JPF member NGO CWS Japan's local partner organization has distributed 240 cold-proof tents and 1,100 hygiene kits in Mirpur District. In the assistance activities to come, JPF member NGOs have plans to distribute additional cold-proof tents as well as plastic sheets that are necessary for people to live in the tents, along with waterproof tarpaulin, blankets, and quilts.

JPF will work with our member NGOs as we bring prompt emergency assistance that meets the needs on the ground. Further updates will be posted on our website and on our Facebook page.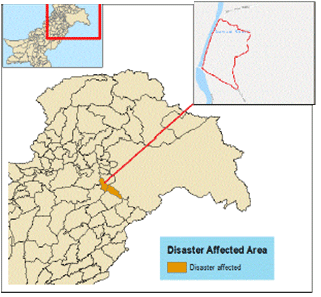 Source: ACTED, 30th September 2019, p1.
*1 Government of Pakistan Prime Minister's Office National Disaster Management Authority, NDMA Situation Report No. 19-Mirpur Earthquake 2019, 11th October 2019, p1.
Program Overview
| | |
| --- | --- |
| Term | 4 months (Initial Response) |
| Budget | 50 million yen (Government Subsidies) |
| Locations | Azad Jammu and Kashmir (AJK) Region, Pakistan |
| Content | NFI (non-food item) distribution including winterized tents, plastic sheets to be used inside tents, waterproof tarpaulin, blankets and quilts |