Emergency Response to Earthquake in Kumamoto

April 2016~
Japanese
10th February 2020 15:00
©KVOAD

©KVOAD
As part of our response to the earthquake in Kumamoto, JPF is currently implementing a project to lay the foundation to support local relief workers, with KVOAD (Kumamoto Voluntary Organizations Active in Disaster) as the local implementation partner working with us. In Kumamoto, back in September of last year, it was discovered that drinking water and relief items like blankets, which were sent from all over the country right after the earthquake, were left undistributed. Currently, KVOAD is taking the lead in making sure these items of good will would not go to waste. They are working together with local governments, social welfare councils, and relief organizations to sort these items and to transport them to disaster storage within and outside of Kumamoto prefecture. This process began in November 2019 and is expected to be completed this March.
30th January 2020 17:30
As part of JPF's current Emergency Response to Earthquake in Kumamoto, JPF and our contractor organization KVOAD (Kumamoto Voluntary Organization Active in Disaster) are implementing capacity development activities to support local human resources. The project term has been extended to last through the end of March 2021, and we are determined to work on further strengthening local community power. We will continue to update you on KVOAD's activities and our monitoring in Kumamoto on social media and on our website.
24th December 2019 17:30
From the 18th to the 21st of December, JPF staff visited Kumamoto.
During this business trip, we worked with KVOAD (Kumamoto Voluntary Organizations Active in Disaster) as we reviewed this year's program outcomes and deliberated on the plans for next year. Since 2017, JPF has supported programs in post-earthquake Kumamoto that strengthened community power, based on which local organizations worked towards reconstruction. These local relief organizations have served as liaisons between people affected by the earthquake and the municipal government and other social institutions. At this time, we compiled all of their program outcomes and put our heads together to see how JPF can continue to be involved in the reconstruction of Kumamoto.
Also, while we were at KVOAD, we participated in the bimonthly information sharing meeting at the Community Co-Support Center whose office is right next to KVOAD's. We recognized, once again, that through interviewing people affected by the disaster as carefully as possible and sharing the results, we could help solve problems people are facing that are not readily visible from the outside.
JPF staff travels to Kumamoto almost every month and is keenly aware of how necessary cars are here, but within the city center, the Kumamoto City Tram is very useful. The streetcar takes passengers from either the JR Kumamoto or JR Kami-Kumamoto stations to Kengunmachi in the eastern part of the city. 3.3 km in its total length, the flat fare is at 170 yen per adult. Kumamoto is known as a castle town, and you indeed find municipal offices and shopping areas clustered around the castle.
Check out the map of the Kumamoto City Tram here: http://www.kotsu-kumamoto.jp/timetable/pub/rosen.aspx
Some are one-car trams while others are the new two-car trams, but you still see retro trams from the 1950s and 60s still running with wooden floorboards! No matter which tram you catch, you can use an IC card to pay your fare.
When the staff visited, the banpeiyu (a type of Japanese citrus) was in season. Banpeiyus are a part of the pomelo (citrus maxima) family and grow to be as large as a person's head at about 20 to 25 cm in circumference and 1.5 to 2.5 kg in weight. It is said to be the largest citrus in the world. Besides eating fresh, the thick peel preserved in sugar or made into jam are both delicious ways to enjoy the fruit. In Kumamoto, you find quite a variety of citrus almost around the year, and one of the highlights of our visit is walking around grocery stores and shopping arcades spotting different types of oranges we don't see back in East Japan.
20th November 2019 20:30
From the 8th to the 13th of November, JPF staff visited Kumamoto.
During this trip, we focused on making visits to various sites to check on the current conditions as well as to deliberate on the future of our response. We traveled over a large area across Kumamoto with KVOAD (Kumamoto Voluntary Organizations Active in Disaster), an external expert, and a JPF board member, visiting several temporary housing and post-disaster public housing complexes in the Aso region and other municipalities.
People are increasingly moving out of temporary housing units, and the temporary housing complexes are expected to be consolidated at some point mid next year to ensure safety and security and to better keep watch over the residents. People are starting to move into post-disaster public housing, which is permanent housing for the residents. This has proven to be an opportune time to reconsider the impact of the changes in living environments for those who were affected by the disaster.
Among the post-disaster public housing complexes in Kumamoto City, there were differences in whether or not the building had an elevator, where it was located, how easy it was to interact with other residents in the neighborhood, and how easy it was to get your daily shopping done. In Nishihara Village, they had built stand-alone houses using lumber supplied from within the prefecture, and we found these public housing to be considerate toward the elderly and for families raising children.
In the town of Mashiki, the consolidation of public housing would result in remaining residents living in the Kiyama Temporary Housing Complex next to the temporary town hall, and people would move out of the Techno Temporary Housing Complex that is currently the largest among the temporary housing complexes. Due to this move into Kiyama, we anticipate that many current Techno residents would struggle with longer commutes to their workplaces and schools.
In terms of the maximum length of stay allowed in public temporary housing, the original two-year term was extended another two years, and for those who meet certain criteria the term can be re-extend for another year. (The conditions vary from municipality to municipality.) To prevent isolation among those who will continue to live in temporary housing and to help those moving into post-disaster public housing to assimilate into the local community, we need to explore ways of providing assistance that build on existing community power and strengths.
By the way, let us touch on our previous October trip to Kumamoto here again. At the time, we were able to stop by Kumamoto Castle, which had a special opening then. For the post from 29th April of this year, we mentioned the route you would take to observe the castle's repairs. During the special opening in October, we were able to take a closer look at the castle tower. Restoration is to be completed in 2038, which is still a long way to go, but we hope that the repair work goes as safely as possible for Kumamoto Castle, which serves as one of the symbols of the city's recovery.
Find out more about the Kumamoto Castle here: https://kumamoto-guide.jp/spots/detail/122
1st October 2019 19:30
In coordination with KVOAD (Kumamoto Voluntary Organizations Active in Disaster), JPF has been implementing capacity development activities to support local human resources. As part of one such activity, the second volume of a relief and assistance manual called Musubook has been finally completed!
In Musubok vol.02, relief and assistance organizations and their activities are organized and presented clearly, and users can also search by category. We sincerely hope that this manual will reach those in need and will be their reassuring partner if and when an emergency occurs. We thank the nonprofit organization BULBY and others who have helped make this second volume of Musubook a reality!
26th September 2019 13:00
Staff members of Japan Platform (JPF)'s Domestic Division team visited Kumamoto from Sep. 10 to monitor programs that are part of the JPF Emergency Response to Earthquake in Kumamoto. The initial plan was to fly to Kumamoto on Sep. 9, but due to Typhoon Faxai, their plane was cancelled right before it was scheduled to fly, and they had to wait until the next day.
Due to the damages caused by Typhoon Faxai, there are still many people who are forced to live under challenging conditions in Chiba Prefecture as well as Kanagawa, Ibaraki and Shizuoka Prefecture. As damages stemming from the typhoon are becoming prolonged and increasing, JPF has begun to provide aid in Chiba Prefecture as well as other locations.
▼See here for details on the JPF Emergency Response to Typhoon Faxai
https://www.japanplatform.org/E/programs/chiba-typhoon2019.html
JPF is working with Certified Nonprofit Organization Kumamoto Volunteer Organizations Active in Disaster (KVOAD) to implement a program to create a platform that supports aid workers. One of its activities is creating "Musubook: A Manual for Aid" that connects affected people and local aid organizations, and Certified Nonprofit Organization Bulby is taking the lead.
The first version was issued in March 2019, but as people are moving out quicker from temporary housing units and publicly funded private rental accommodations, the editors are checking for changes in their needs that may have occurred over the summer. Information on aid organizations and their activities is neatly organized so that affected people can easily look for an aid organization based on their needs.
Bulby is taking the lead and working hard with local social welfare councils to put together the second version, which is to be issued in October. Please look forward to it!
▼See here for details on Musubook
http://musubook.starfree.jp/home/
https://www.facebook.com/musubook8/
16th August 2019 19:30
Brainstorming to provide better aid until the end of the program ©JPF

JPF staff check a light truck in use ©JPF

Discussing again what can be done ©KVOAD

With the strong sunshine in Kumamoto causing weeds to grow tall quickly, volunteers that can cut these weeds are still needed ©JPF
The Japan Platform (JPF) blog post linked below was written by Saito from the Domestic Division and reflects on the monitoring in Kumamoto conducted in July 2019.
It describes the visit to Fukko (Recovery) Project Otsu Kasesuru Kumamoto and Certified Nonprofit Organization Bulby, organizations that are both receiving funding through a JPF program, as well as temporary housing units seen on the way. It also talks about what JPF aims to achieve through its aid to Kumamoto. Please take a look!
▼See here for the JPF blog post
http://blog.japanplatform.org/entry/2019/08/16/185635
25th July 2019 19:30
©JPF

©JPF
From July 13 through July 17, members of the Japan Platform (JPF) Domestic Division visited Kumamoto to conduct monitoring for the JPF Emergency Response to Earthquake in Kumamoto. Currently, JPF is working with Kumamoto Volunteer Organizations Active in Disaster (KVOAD) to implement a program to create a platform that supports aid workers.
On July 13, we arrived at Kumamoto Airport. The heavy rain caused some of the flights that were to depart later to be cancelled, but the team managed to visit four organizations that receive funding from JPF--General Incorporated Association Study Life Kumamoto, Fukko (Recovery)Project Otsu Kasesuru Kumamoto, Certified Nonprofit Organization Bulby and Minna no Volunteer Station (Everyone's Volunteer Station)--and conduct monitoring on the status and results of their efforts.
During our visit, we dropped by the ruins of the Taisho-ji temple, the family temple of the Hosokawa clan, located in Kurokami, Chuo-ku, Kumamoto City, where we had passed by several times but never visited until now. Part of the garden is now open to the public in the form of Tatsuta Nature Park, and the tea ceremony room and chozubachi (water bowl) used by Hosokawa Garasha (daughter of Akechi Mitsuhide) can be seen. The temple is also known as Higo no Kokedera (Higo's moss temple), and the moss garden inside the grounds was stunningly green. Kumamoto was extremely hot and humid throughout our visit, but we were able to cool down for a moment in this green oasis.
8th June 2019 13:09
We're having our final preparation meeting with the panelists. The event starts at 14:00. Looking forward to seeing you all there!
7th June 2019 15:30
On Saturday, 8th June, JPF will hold an event titled "Even Though We Say Coordination is Key When Disaster Strikes...: Possibilities of Coordination Made Visible in Kumamoto."
Hinokuni Conference began as a meeting held every night for two months immediately following the 2016 Kumamoto Earthquake and has continued to this day being held every week, totaling over 220 meetings altogether. How did Hinokuni Conference begin? What are the challenges of coordinating our efforts toward reconstruction?
At this event, we will talk about local NPOs' coordination efforts exemplified by Kumamoto Voluntary Organization Active in Disaster (KVOAD)'s Hinokuni Conference, JPF's programs that aim to strengthen community power, various activities in other disaster-affected areas since the Kumamoto Earthquake, and examples from assistance efforts overseas.
For more information on the event, please visit here: https://www.japanplatform.org/info/2019/05/241010.html
21st May 2019 19:30
Hinokuni Conference met every single evening for two months since the Kumamoto Earthquake, and the meeting still continues every Tuesday to this day. It was held today at the venue for the "4th National Forum on Coordination During Disasters," hosted by JVOAD (Japan Voluntary Organizations Active in Disaster), attended by Mr. Higuchi, who is the representative of KVOAD (Kumamoto Voluntary Organizations Active in Disaster), and others who have come to Tokyo for this forum. The conference hasn't missed a week, connecting Kumamoto and Tokyo!
21st April 2019 17:54
On 21st April, in Kumamoto City, Kumamoto Voluntary Organizations Active in Disaster (KVOAD) and JPF co-hosted the "Symposium on Lessons Learned from the Disaster and How to Make the Best of the Experiences," and the venue was full with around 100 participants. The symposium was covered by local media outlets including television and newspaper.
The symposium covered a wide array of topics including the following:
- Keynote address on reconstruction and community after domestic and international disasters;
- Panel discussion on the works of and challenges faced among organizations providing intermediate support not only in Kumamoto but also in Osaka, Okayama, Hokkaido, and other places around Japan;
- Three-party talk by local governments and social welfare councils on the future of disaster response; and
- JPF's assistance projects for the people affected by the Kumamoto Earthquake.
The symposium provided space for the sharing of various experiences and perspectives.
6th April 2019 16:43
The cherry blossoms are in full bloom in Kumamoto now.
On 19th April 2016, soon after the earthquake happened, Hinokuni Conference was launched. Its objective was to connect different parties across the walls that separate businesses, government, and academia, and to gather relief organizations, local government bodies, volunteers, the media, and others together for information sharing and partnerships that would allow for more effective and speedy disaster relief. The conference met every single night for two months, and it still meets once a week. The other day, the conference met for the 220th time!
JPF was in Kumamoto since right after the earthquake struck, and in cooperation with other parties, we have supported Kumamoto Voluntary Organizations Active in Disaster (KVOAD), which hosts the Hinokuni Conference. We have worked with KVOAD towards reconstruction that relies on Kumamoto's great potentials as we engaged in grant making and hands-on support provision while we developed staffing and intermediary support organizations towards the strengthening of community power.
Today, JPF's Domestic Programs Division staff Maki Saito is in Kumamoto to meet with Mr. Higuchi, representative of KVOAD, to discuss the upcoming "Symposium on Lessons Learned from the Disaster and How to Make the Best of the Experiences" to be held on Sunday 21st April.
Visit the Hinokuni Conference Facebook page here.
29th March 2019 21:00
The Kumamoto Nichinichi Shimbun newspaper reported that the Kumamoto Voluntary Organizations Active in Disaster (KVOAD) and the town of Mashiki, Kumamoto Prefecture, signed a partnership agreement to assist those affected by disasters. The partnership aims to strengthen coordination and cooperation during large-scale disasters. The partnership will allow for NPOs and the local government to share information during non-emergency times, so the agreement will facilitate more prompt and smooth delivery of assistance that would be needed by those affected should disasters occur in the future.
This marks the first step for the realization of effective assistance through the residents, the local government, and relief organizations connecting with each other, which was an objective towards which both JPF and KVOAD have been working. At the signing ceremony held at the temporary town hall, Mayor Hironori Nishimura addressed his hopes for the future, stating the town's resolve to "establish a system where both parties [KVOAD and the town] can cooperate with each other."
Kumamoto Nichinichi Shimbun Facebook Page
1st February 2019 21:00
Mr. Matsumaru's lecture is easy to understand for the participants ©KVOAD

Participants working on creating their own problem-solving models 1 ©KVOAD

Participants working on creating their own problem-solving models 2 ©KVOAD

Participants listening attentively 1 ©KVOAD

Participants listening attentively 2 ©KVOAD

Everybody working together to extract a problem and lead to a solution ©KVOAD
It has been almost three years since JPF began providing assistance to Kumamoto after the earthquake struck the region. On 12th January 2019, as part of our efforts to support the people who are responsible for the local reconstruction efforts, JPF co-hosted a "Seminar on Obtaining Grants" with Kumamoto Voluntary Organizations Active in Disaster (KVOAD).
The participants were relief workers who are continuing their relief efforts toward reconstruction every day in their local communities. In this seminar, they learned the "secrets," so to speak, of obtaining necessary funds from appropriate donors so that their own organizations can meet the expectations of the people who were affected by the earthquake and are currently living with various unmet needs.
In the JPF Domestic Programs Division blog, you will find the video of the seminar and also a description of the "Kumamoto Earthquake Relief Records," which is a compilation of experiences and knowledge regarding post-disaster reconstruction based on past disasters such as those in Tohoku, Kobe, and Chuetsu. We hope you visit the blog and read the records, too.
Please find the Domestic Programs Division's blog post by our staff Maki Saito here: http://blog.japanplatform.org/entry/2019/02/01/185559
23rd January 2019 23:00
When JPF's response program for those affected by the earthquake in Kumamoto shifted from the emergency phase to the reconstruction phase, we also shifted the emphasis of the program to strengthening local community power. This was to have the local people take the lead and exercise their agency in the reconstruction efforts.
As part of our program, we have implemented a project called "Staff Development Training for Personnel Involved in the Reconstruction of Kumamoto Prefecture." Between December 2016 and March 2018, we contracted with the Sanaburi Foundation, with whom we had also previously partnered after the Great East Japan Earthquake, to run a series of staff development trainings. Instructors were those who had been involved in the reconstruction process with past disasters elsewhere, and they shared with the participants the common issues you can expect to see as reconstruction progresses, knowledge and experience needed to solve these issues, and other information that people involved in reconstruction ought to know. There were also training at post-disaster sites for the participants. The trainings were considered to be very practical for the participants, and were received very favorably overall.
At this time, we have published the staff development training records with the objective of sharing this knowhow with not only the original target population - or the NPO, resident association, and municipal government staff working on reconstruction efforts within Kumamoto Prefecture - but also as a reference for a wider audience to utilize. It is our hope that these records will be of help in the processes of reconstruction for those in Kumamoto, who are still going strong on their reconstruction efforts, and for others around the country working on disaster response.
Each workshop or lecture is available for download separately, and we suggest that you take a look at whichever one that may be of your interest. We also hope that you utilize these records as a resource for group work and individual learning as well.
Kumamoto Earthquake Relief Records can be found here: https://www.japanplatform.org/programs/kyushu-disaster2016/documents.html
Annual Reports
Aid to Victims of the Kumamoto Earthquakes FY2016 Report(PDF 7.5MB)
Flash Reports
JPF Flash Report vol.3 : Kumamoto Earthquake Response, May 16, 2016 (PDF 455KB)
JPF Flash Report vol.2 : Kumamoto Earthquake Response, May 1, 2016 (PDF 673KB)
JPF Flash Appeal vol.1 : Kyushu Earthquake April 18, 2016 (PDF 246KB)
Overview & Program Summary
At Japan Platform (JPF), our response to the 2016 Kumamoto Earthquake - or the magnitude-6.5 earthquake (the foreshock) at 9:26 p.m. on April 14, 2016, along with the magnitude-7.3 main shock at 1:25 a.m. on April 16 - began immediately after the foreshock with information gathering. Soon after the main shock, JPF decided to mobilize the "Emergency Response to Earthquake in Kyushu," embarking on reaching the earthquake victims with assistance. On the very day of the decision of mobilization, two JPF staff members were sent to Kyushu to assess the damages and to determine the needs for coordination among member NGOs. Simultaneously, we began our appeal for corporate and individual donations.
Based on our past experience in delivering assistance overseas and domestically, as well as on the Sphere Standard (the humanitarian charter and the international standards of humanitarian response), JPF's assistance program to Kyushu has been carried out through using our networks on the ground to connect and coordinate relief efforts, and providing grants to member NGOs. Throughout our relief program, we have given special consideration to the elderly, women, children, persons with disabilities, and other vulnerable populations as well as to gender issues.
On September 28, 2016, in accordance to the recovery efforts entering a transitional phase, JPF has announced a new assistance policy for the Kumamoto Earthquake victims. In 2017, we will aim for community empowerment as we focus on the following: developing human resources, building capacity, and providing funding to local NPOs; identifying and launching local intermediary aid organizations; and assisting those who live below the minimum living standard as a result of the disaster.
Initial Response
In order to provide assistance to the victims of the magnitude-6.5 earthquake at 9:26 p.m. on April 14, the magnitude-7.3 earthquake at 1:25 a.m. on April 16, and the other subsequently occurring earthquakes in Kumamoto and the greater Kyushu region, Japan Platform (JPF) has mobilized the "Emergency Response to Earthquake in Kyushu." On April 16, two JPF staff members arrived in Kyushu and have begun assessment in order to provide relief in accordance with the conditions and the needs on the ground.
As of 2:30 p.m. on April 16, the recurring earthquakes have resulted in 32 deaths, 968 casualties, and 1,763 evacuees within Kumamoto Prefecture (*1). With the expected rainfall, there is also growing concern for landslides. Repeated earthquakes have extended the damage to outside of Kumamoto Prefecture, and in the neighboring Oita Prefecture, 4,465 persons have been evacuated as of 1:30 p.m. on April 16 (*2). In response to these grave conditions, JPF will provide area-wide relief and assistance to the victims to be implemented by our member NGOs.
April 16, 2016
(*1) Kumamoto Prefecture "Report from the 4th Government's Earthquake Response Headquarters Meeting and the 7th Disaster Response Headquarters Meeting"
(*2) Oita Prefecture "Disaster Information Pertaining to the Occurrence on April 16, 2016 (2nd Report)"
NGO's Project : The Japan Asian Association & Asian Friendship Society (JAFS)
Standing by victims by listening and acting together with them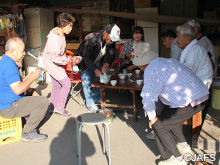 This past year, JAFS has been involved in monitoring disaster victims in evacuation centers, temporary housing and the local community. However, immediately after the earthquake, we frequently helped with much needed work that was lacking personnel, such as removing block walls that had fallen into school route. When transitions to temporary housing were ramping up, JAFS distributed First Sets consisting of the minimum essentials required for everyday life. The contents were decided based on interviews with the victims and some were involved in picking the items at the store. We wanted to stand by the victims, even if we could not satisfy all of their requests. As a result, we believe that they were very happy with these items and the level of satisfaction was high.
Voice from the Field
Hearing people say "we preferred the evacuation center that JAFS supported" feels rewarding

Tsuguo Yamatake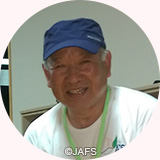 When we deliver necessary items to disaster victims, many are hesitant to accept them and say that they feel bad. To this, I always respond by saying, "These are not from me, but from those who made a donation through JPF." After hearing this, they look reassured and happily accept the aid. The people that we monitored and built trust over such interactions transitioned to temporary housing in the latter half of fiscal year 2016, and when that time came, they said, "we preferred the evacuation center that JAFS supported." It was truly rewarding to hear that. We would like to continue to use donations carefully to work with people in various fields to support our beneficiaries.