Emergency Response to Earthquake in Kumamoto

April 2016~
Annual Reports
Aid to Victims of the Kumamoto Earthquakes FY2016 Report(PDF 7.5MB)
Flash Reports
JPF Flash Report vol.3 : Kumamoto Earthquake Response, May 16, 2016 (PDF 455KB)
JPF Flash Report vol.2 : Kumamoto Earthquake Response, May 1, 2016 (PDF 673KB)
JPF Flash Appeal vol.1 : Kyushu Earthquake April 18, 2016 (PDF 246KB)
Overview & Program Summary
At Japan Platform (JPF), our response to the 2016 Kumamoto Earthquake - or the magnitude-6.5 earthquake (the foreshock) at 9:26 p.m. on April 14, 2016, along with the magnitude-7.3 main shock at 1:25 a.m. on April 16 - began immediately after the foreshock with information gathering. Soon after the main shock, JPF decided to mobilize the "Emergency Response to Earthquake in Kyushu," embarking on reaching the earthquake victims with assistance. On the very day of the decision of mobilization, two JPF staff members were sent to Kyushu to assess the damages and to determine the needs for coordination among member NGOs. Simultaneously, we began our appeal for corporate and individual donations.
Based on our past experience in delivering assistance overseas and domestically, as well as on the Sphere Standard (the humanitarian charter and the international standards of humanitarian response), JPF's assistance program to Kyushu has been carried out through using our networks on the ground to connect and coordinate relief efforts, and providing grants to member NGOs. Throughout our relief program, we have given special consideration to the elderly, women, children, persons with disabilities, and other vulnerable populations as well as to gender issues.
On September 28, 2016, in accordance to the recovery efforts entering a transitional phase, JPF has announced a new assistance policy for the Kumamoto Earthquake victims. In 2017, we will aim for community empowerment as we focus on the following: developing human resources, building capacity, and providing funding to local NPOs; identifying and launching local intermediary aid organizations; and assisting those who live below the minimum living standard as a result of the disaster.
Initial Response
In order to provide assistance to the victims of the magnitude-6.5 earthquake at 9:26 p.m. on April 14, the magnitude-7.3 earthquake at 1:25 a.m. on April 16, and the other subsequently occurring earthquakes in Kumamoto and the greater Kyushu region, Japan Platform (JPF) has mobilized the "Emergency Response to Earthquake in Kyushu." On April 16, two JPF staff members arrived in Kyushu and have begun assessment in order to provide relief in accordance with the conditions and the needs on the ground.
As of 2:30 p.m. on April 16, the recurring earthquakes have resulted in 32 deaths, 968 casualties, and 1,763 evacuees within Kumamoto Prefecture (*1). With the expected rainfall, there is also growing concern for landslides. Repeated earthquakes have extended the damage to outside of Kumamoto Prefecture, and in the neighboring Oita Prefecture, 4,465 persons have been evacuated as of 1:30 p.m. on April 16 (*2). In response to these grave conditions, JPF will provide area-wide relief and assistance to the victims to be implemented by our member NGOs.
April 16, 2016
(*1) Kumamoto Prefecture "Report from the 4th Government's Earthquake Response Headquarters Meeting and the 7th Disaster Response Headquarters Meeting"
(*2) Oita Prefecture "Disaster Information Pertaining to the Occurrence on April 16, 2016 (2nd Report)"
NGO's Project : The Japan Asian Association & Asian Friendship Society (JAFS)
Standing by victims by listening and acting together with them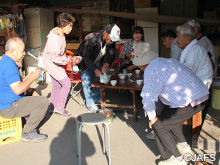 This past year, JAFS has been involved in monitoring disaster victims in evacuation centers, temporary housing and the local community. However, immediately after the earthquake, we frequently helped with much needed work that was lacking personnel, such as removing block walls that had fallen into school route. When transitions to temporary housing were ramping up, JAFS distributed First Sets consisting of the minimum essentials required for everyday life. The contents were decided based on interviews with the victims and some were involved in picking the items at the store. We wanted to stand by the victims, even if we could not satisfy all of their requests. As a result, we believe that they were very happy with these items and the level of satisfaction was high.
Voice from the Field
Hearing people say "we preferred the evacuation center that JAFS supported" feels rewarding

Tsuguo Yamatake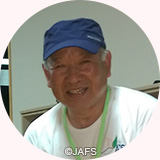 When we deliver necessary items to disaster victims, many are hesitant to accept them and say that they feel bad. To this, I always respond by saying, "These are not from me, but from those who made a donation through JPF." After hearing this, they look reassured and happily accept the aid. The people that we monitored and built trust over such interactions transitioned to temporary housing in the latter half of fiscal year 2016, and when that time came, they said, "we preferred the evacuation center that JAFS supported." It was truly rewarding to hear that. We would like to continue to use donations carefully to work with people in various fields to support our beneficiaries.