A collection of knowledge on support for the people affected by the Kumamoto Earthquake "Tips for Assisting Survivors of Disasters - Lessons from CHS & 2016 Kumamoto Earthquake -" is now available
JPF has been involved in various forms of support since immediately after the Kumamoto earthquake in April 2016, in cooperation with member NGOs, local support groups, government, social welfare councils, and media organizations. In particular, since October 2016, six months after the earthquake, we have focused on "strengthening local capacity" so that local people can play a leading role and work together toward reconstruction, and we completed our support program in July 2021.
To share the knowledge gained from such activities with people in Kumamoto Prefecture and throughout Japan who are engaged in supporting disaster affected people, and to make use of this knowledge in future disaster relief activities, we have compiled a list of points to keep in mind when entering disaster-affected areas, centered on the nine commitments of the CHS "Core Humanitarian Standard on Quality and Accountability"*. The content is easy to understand for the general public by avoiding jargon and using illustrations and diagrams as much as possible.
At the end of the book, there are interviews with people who were involved in the relief efforts in Kumamoto, suggestions from experts and aid workers, and links to other useful resources.
Floods and earthquakes occur every year in various parts of Japan, and it is said that another major disaster will occur in the near future. In order to improve the quality of support, we hope that this booklet will be of help not only in times of disaster, but also in ordinary times.
* To learn more about the CHS commitment, click here.
Tips for Utilization of This Booklet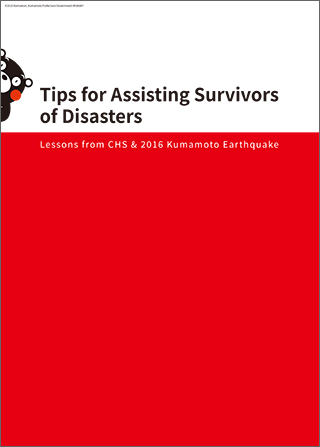 In addition to the download of entire report, downloads for each section are available . Please feel free to browse from the sections of your interest.
Please use it for group work, study opportunities, etc.