Humanitarian response to South Sudan conflict

June 2016~
Latest Country Situation Report 5th, February, 2019
The Republic of South Sudan gained its independence on July 9, 2011, and two years later in December 2013, armed conflict broke out and spread throughout the country in this new nation. In the end of April 2016, the transitional government of national unity (TGoNU) was finally formed, however, due to severe critical factors including the ravaged economy and the government's financial crisis, violence flared in Juba around Independence Day in July. As a result, millions of refugees and internally displaced persons (IDPs) have no prospects for returning home.
JPF has been assisting repatriation and implementing capacity building projects for government and communities to promote Consolidation of Peace since 2006. Starting in 2014, JPF has been offering emergency response for those who have become refugees and IDPs due to the newly erupted civil war. We conducted a field assessment in 2016 to ascertain the validity of extending assistance for this protracted humanitarian crisis and to determine the program policy based on this assessment. Consequently, we are currently implementing shelter, water and sanitation, protection, and educational projects etc as well. While showing JPF commitment to the field, JPF member NGOs implement projects in high-risk and rural areas, too. Currently, we are active in South Sudan, Ethiopia, Kenya and Uganda. We will respond flexibly should anything unexpected arise in the future.
Due to the prolonged conflict, numbers of Internally Displaced Persons (IDPs) and refugees have increased.
We are committed to preventing the spread of cholera through improving hygienic environments, and to delivering education to the children.
The humanitarian crisis in South Sudan originated from an armed conflict in December 15, 2013, and have since turned into a civil war. At Japan Platform (JPF), in order to respond to this ongoing crisis, we have continued providing aid to Internally Displaced Persons (IDPs) and refugees who have fled to neighboring countries.
Initially, the conflict saw some movement toward political resolution with mediation by the Intergovernmental Authority on Development (IGAD), but the ceasefire agreement was not honored. Fighting persisted in rural areas, and the national economy continued to worsen. As of June 2017, there were over 2 million IDPs, and more than 1,969,344 refugees are said to have fled to neighboring countries (*1). At JPF, in order to respond to this complex humanitarian crisis (CHE), 7 Member NGOs have carried out 9 projects in South Sudan and Kenya, and expanding to Ethiopia and Uganda as well.
Within South Sudan, JPF Member NGOs have implemented hygiene aid projects through building emergency latrines and bathing facilities, collecting trash, and raising awareness of hygiene issues at United Nations Mission in the Republic of South Sudan (UNMISS) Protection of Civilians (PoC) Sites in Central Equatoria and Jonglei States. These efforts contribute to maintaining the minimal hygienic environments even under harsh conditions, and to preventing cholera and other infectious diseases. In Jonglei State's Bor County, Member NGOs distributed emergency goods to those who fled the fighting, and in Juba, new initiatives have been undertaken to support victims of violence and to prevent conflict. And to help cope with the sudden influx of South Sudanese refugees in neighboring countries of Kenya, Ethiopia, and Uganda, Member NGOs worked on setting up new refugee camps through water provision, improvement of hygiene environments, emergency education, and establishment of pediatric wards.
It is very difficult to implement aid activities within South Sudan, as Member NGOs must remotely operate their activities while based in neighboring countries, and there have been projects that could not be completed. Despite these difficulties, JPF has been carrying on this humanitarian assistance program citing how JPF can make unique contributions based on what we have learned from our experiences so far.
NGO's Project : ADRA Japan (ADRA)
Delivering assistance in water, hygiene and sanitation (WASH), while placing an emphasis on safety, long-term vision and participation of refugees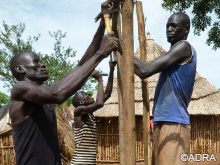 From April 2014, ADRA Japan has been delivering WASH assistance to refugee camps in Gambella Region, Ethopia, where many South Sudanese refugees reside. With no improvement in the situation in South Sudan in sight and refugees entering their third year in displacement, there is a need for a transition to long-term facilities as well as participation of refugees to prevent dependence on assistance. In addition, many refugees are women and children, which increases the importance of a transition from public toilet facilities to household toilet facilities. ADRA Japan provides assistance including education on hygiene and building household latrines with the participation of refugees.
Voice from the Field
Grateful of household latrines that protect from diseases and dangers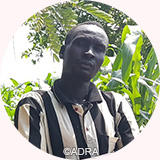 I was a farmer growing grains in South Sudan, but I fled with my family of six. It's been three years since I began living in Tierkidi refugee camp. In South Sudan, we would relieve ourselves in the bushes and this would make us sick sometimes, but now we have our own latrine and we hardly become sick anymore. The latrine is very close to our home, so I am no longer worried that my wife and children will be sexually assaulted. My younger children still sometimes relieve themselves outdoors near our home, but when that happens, we have learned to collect the waste in plastic bags and throw them away in the latrine. I clean the latrine once a day and I used to use the soap that was distributed, but I feel that it is a waste so now I use ashes. I am grateful for the people that built this latrine.