Indonesia


Emergency Response to Earthquake and Tsunami in Indonesia, Sulawesi
Donate NowJapanese
Situation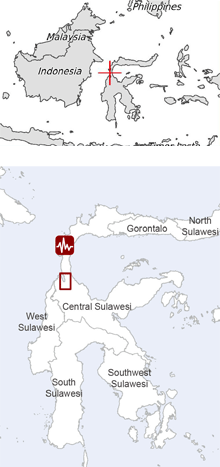 On Sep 28, around 18:03(Japan time 19:03), a 7.5 magnitude earthquake struck the Central Sulawesi province, the epicenter is located 78km far from North Palu coast, and 10km deep.
JPF started an emergency initial assessment with PWJ, the member NGO, and PWJ entered the affected areas on Oct 1. Currently, we are collecting information about disaster situation & aid requirements in association with the local government, UN affiliates and several NGOs.
Due to the Earthquake & Tsunami, 1,234 people died, and more than 632 are critical condition and 99 are missing. 65,733 buildings and houses were destroyed, 61,867 people are now forced to evacuate to tents now in lack of shelters. 191,000 people are in need of humanitarian aid.

the numbers above may be included ※2

Despite the rescue efforts, due to the interruption of telecommunication and blocked access of destroyed roads & bridges, the overall situation remain unclear and the impact scale may expand.
The Central Sulawesi administration declared 14 day state of emergency period from Sep 28 to Oct 11. Also, on Oct 1, the Indonesian Government declared to accept International support. Support by air transportation, providing tents, water cleaner and electricity generator, medical support including fighting malaria are especially requested. JPF determined resources to support the local investigation & situation. Each NGO is now preparing to provide safe access to water resources & medical support, NFI & food delivering, supporting evacuation center and shelters.
JPF will provide prompt support at the time of emergency in association with its member NGOs, local government and supported organizations. Further will be reported on the JPF website as well as through its Facebook page.
※1: USGS(United States Geological Survey)
※2: AHA Centre Situation Update No. 4: M 7.4 Earthquake and Tsunami, Sulawesi, Indonesia -
Tuesday, 2 October 2018, 17:30 hrs (UTC+7)
※:Map:OCHA, Indonesia Humanitarian Snapshot(as of 1 Oct 2018)
WFP Earthquake in Sulawesi Tengah, Indonesia. 55km NNW of Palu. Magnitude:6.1 Depth:18.08
(28 September 2018)
Emergency Response to Earthquake and Tsunami in Indonesia, Sulawesi Overview
| | |
| --- | --- |
| Term | 6months (initial response) |
| Budget | 120 million yen (funding from government subsidies) & 30 million yen (funding from private secters) |
| Location | The affected areas of Sulawesi Island, Indonesia |
| Support | Initial assessment, Non Food Items (NFI), Food Deliver, water & sanction aid, shelter, Medical support |
| Parties in action | Peace Winds Japan(PWJ),CWS Japan(CWS),Good neighbors Japan(GNJP)、Japan Heart(JH)PARCIC, Shanti Volunteer Association(SVA)etc |
*The project term, budget may be readjusted based on the local situation.
Donation account for Emergency Response to Earthquake and Tsunami in Indonesia, Sulawesi
※Donation acceptance period:Oct 3, 2018 through Feb 8, 2018
International Bank Transfer
Bank Name

MUFG Bank, Ltd. (Swift Code: BOTKJPJT)

Branch

Head Office

Account Type

Saving account

Account No.

1781626

Account Name

TOKUHI JAPAN PLATFORM
※Please burden bank transfer fee at your expense.
After the disaster strikes, the emergency initial investigation fees for assess the situation and the demands are contributed by the "general donation". If you would like to support us for the disaster that may occur in the future, please support us through the following ways:
General Donation
International Bank Transfer
Bank Name

MUFG Bank, Ltd. (Swift Code: BOTKJPJT)

Branch

Head Office (Bank Address:2-7-1, Marunouchi, Chiyoda-ku, Tokyo 100-8388, Japan)

Account Type

Saving

Account No.

0717028

Account Name

TOKUHI JAPAN PLATFORM
Become a Monthly Supporter
Monthly Supporters can select to donate through credit card or bank transfers.
https://www.japanplatform.org/monthly/ [In Japanese only]