Response Program for Yemen Humanitarian Crisis

October 2015~
Latest Country Situation Report October 22, 2018
Yemen was already experiencing political instability even prior to the eruption of the conflict in March 2015, but since then, external interventions have added fuel to the fighting between government and those allied to the Houthi rebel movement. As a result, in July of the same year, the Inter-Agency Standing Committee has declared the Level 3 emergency response, placing this crisis at the severest level of humanitarian crises happening in the world today (*1). 18.8 million Yemenis, or about 70% of the estimated total population of 27.4 million, require some kind of humanitarian or protection assistance, while 3.3 million people are acutely malnourished and 4.5 million are in need of shelter and Non Food Items (NFI) (*2). Also, it has been reported that 179,661 Yemenis have fled the country and become refugees in neighboring countries, including 36,162 who have fled to Djibouti (*3).
JPF, along with our member NGOs, has been carrying on this emergency humanitarian assistance program focusing on food and NFI distribution, provision of safe water, improvement on malnutrition, and other life-saving&sustaining actions intended to meet the most desperate needs among the people in Yemen and Djibouti who have been affected by the conflict.
※1:IASC, https://interagencystandingcommittee.org/iasc-transformative-agenda/news-public/l3-iasc-system-wide-response-activations-and-deactivations
※2:OCHA, Yemen: 2017 Humanitarian Needs Overview (November 2016)
※3:UNHCR, Yemen Regional Update no.41, July 2016
FACTS
69% of the total population in Yemen, 18.8 million people out of 27.4 million, are estimated to be in need of some kind of humanitarian or protection assistance, including 10.3 million who are in acute need(*1)

14.1 million people are food insecure, including 7 million people who are severely food insecure. (*1)

14.5 million people need support to meet their basic water, sanitation and hygiene needs. (*1)

4.5 million people require services to treat or prevent malnutrition, including 4 million in acute need.(*1)

More than1,600 school remain closed and approximately 2 million children are out of school. (*1)

More than 179,661 people have outflowed from Yemen to the neighboring countries since the escalation of the conflict. (*2)

36,162 people have moved from Yemen to Djibouti and more than 19,000 are Yemeni. (*3)
(*1) Yemen Humanitarian Needs Overview 2017 http://ochayemen.org/hno-2017/
(*2) UNHCR, Yemen Regional Update no.41, July 2016
(*3) UNHCR Yemen Regional Refugee and Migrant Response Plan http://data.unhcr.org/yemen/regional.php
Accessed on 19th April 2016
OUR PROGRAMME
With the JPF funding,
ADRA Japan is providing food, WASH and nutrition assistance in Yemen.
ICAN is implementing food and NFI distribution project in Yemen.
Child Friendly Space was provided by ICAN at Markazi camp in Djibouti. (the project completed)
NGO's Project : ADRA Japan(ADRA)
Delivering assistance to IDPs and exhausted host communities in locations where aid tends to be insufficient.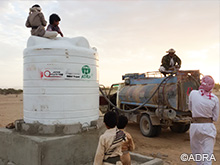 Since December 2015, ADRA Japan has been delivering assistance to IDPs as well as residents of host communities that tend to become vulnerable including children and women. The content of their assistance includes distributing food, counter-measuring malnutrition in infants and toddlers, distributing hygiene kits and supplying water. ADRA Japan has been working in the Al Jawf and Ma'rib Governorates in northern Yemen, where there tends to be a lack of aid with few humanitarian aid organizations present despite the existence of many people requiring assistance. ADRA Japan partners with ADRA Yemen to provide assistance, and has assisted a total of approximately 8,000 households and 72,000 people in fiscal year 2016. With there being no end to the conflict in sight, it will continue to deliver assistance.
Voice from the Field
I know how to wash my hands because we received a hygiene kit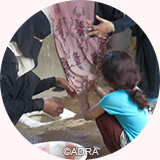 Hamas used to live in the Al Khalq District of Al Jawf Governorate in Yemen with her father, mother and younger sister. Her family felt threatened by the armed conflict and fled to the governorate's capital, Al Hazm. They had only brought with them a handful of money and clothes, and they began living in an abandoned house. Due to the outbreak of cholera across the country, it has become increasingly important in Yemen to maintain good hygiene practices at home. For these reasons, Hamas and her family received a hygiene kit from ADRA that included buckets, soap, detergent and shampoo. Later, an ADRA staff member that visited her home for monitoring asked Hamas if she knew how to wash her hands. She said yes and showed this staff member how she does it.