Yemen


Response to Yemen Humanitarian Crisis
Japanese
Humanitarian Assistance in Yemen and Anxiety Amidst the Pandemic
21st February 2021 23:00
Delivering relief items to a shelter ©ICAN
As part of JPF's response to the humanitarian crisis in Yemen, our member NGOs ICAN and Save the Children Japan (SCJ) are continuing to provide food and educational assistance.
Administration of COVID-19 vaccinations has begun in Japan, but for people in countries with political instability such as Yemen, Somalia, South Sudan, or Ethiopia, there is a likelihood that they may miss out on receiving the vaccine.
https://www.bbc.com/news/uk-politics-56095670
ICAN's Food Assistance for IDPs
28th January 2021 11:00
Preliminary assessment ©ICAN

Infection control during food provision ©ICAN
As part of the JPF program, JPF member NGO ICAN is currently providing emergency food for internally displaced persons (IDPs) in Yemen's west coast. ICAN has given thorough consideration to infectious disease control when providing relief items, and they have also transported items to shelters when necessary.
Although political unrest continues in Yemen, in our response program, we will continue to conduct preliminary needs assessment and implement activities in line with the needs of the people.
Yemen Humanitarian Crisis Response Plan
16th December 2020 11:00
Food assistance ©ICAN
As part of JPF's Response to Yemen Humanitarian Crisis program, ICAN and Save the Children Japan (SCJ) are currently respectively implementing the "Emergency food distribution project for internally displaced persons (IDPs) on the west coast of Yemen" and the "Safe learning environment project for IDP and host community children in Hajjah Governorate."
In Yemen, which is said to be facing one of the worst humanitarian crises in the world, JPF's response program is implemented based on the Yemen Humanitarian Crisis Response Plan and is in line with the local needs.
The response plan can be read here.
SCJ's Learning Environment Improvement Project
22nd November 2020 18:00
As part of the JPF program, JPF member NGO Save the Children Japan (SCJ) is implementing a project to improve learning environments in Hajjah Governorate, Yemen.
Launched last month, the project aims to improve the learning environment and access to education for internally displaced children and children from the host communities who are affected by the conflict.
SCJ will repair and improve conflict-damaged school buildings and water, sanitation, and hygiene (WASH) facilities. Work on the facilities will be done from a gender sensitive perspective, especially for girls who struggle to attend school due to lack of gender-segregated toilets.
SCJ will also support children so that they can continue learning. As public schools are currently closed due to the effects of the new coronavirus pandemic, there are concerns that children will not be able to keep up with their studies and will drop out when the schools reopen, so remote remedial lessons will also be conducted.
ICAN's Food Assistance
30th October 2020 20:00
©ICAN
As part of the JPF program, JPF member NGO ICAN is currently providing emergency food for internally displaced persons (IDPs) in Yemen's west coast.
Taiz Governorate, where ICAN operates its relief project, faces a serious food shortage with the third largest number of IDPs in the country but limited external support because it is difficult to access the area due to heavy fighting and airstrikes. ICAN began its relief project in September and has been coordinating with stakeholders to provide food and to collect information on COVID-19 in the area.
UN Secretary-General Guterres Calls for Support for Yemen
30th September 2020 23:30
COVID-19 has affected the lives of nearly one million people in Yemen.
UN Secretary-General António Guterres told the UN General Assembly in September that more than 2,000 cases have been confirmed in Yemen, saying that the political settlement to end the conflict is more urgent than ever in the country where the healthcare system have become fragile after more than five years of conflict. He also noted that aid from the international community has been decreasing. He called for continued UN support in Yemen and cooperation from the international community to prevent a devastating famine.
UN News: https://news.un.org/en/story/2020/09/1072692
COVID-19's Impact in Yemen
31st August 2020 20:00
Many people in conflict-stricken Yemen have been forced to flee cities with high levels of the new coronavirus infection to other parts of the country.
In interviews conducted by the International Organization for Migration (IOM) between March and July, many cited "fear of infection and the impact of the outbreak on services and the economy" as reasons for leaving virus hotspots. However, things have been very difficult for those who have been newly displaced because potential employers are afraid they may carry the virus, and the people are unable to find jobs. Some have been selling blankets and children's clothing to make ends meet so that they can buy daily essential items.
UN News: https://news.un.org/en/story/2020/07/1068731
30th July 2020 23:00
JPF will continue our response to the Yemen humanitarian crisis. Based on the principle of humanitarian assistance, JPF will provide support that links emergency aid to development assistance as much as possible. JPF will also clarify needs assessment, beneficiaries, and evaluation methods in this program as we proceed with our activities and conduct appropriate monitoring of its projects. We will continue to report on the program's response plan and project implementation on our website and social media.
28th June 2020 22:00
In Yemen, which has been in one of the worst humanitarian crises in the world, more assistance for children is needed now that COVID-19 has been spreading. In this country where cholera and COVID-19 has been spreading in addition to the long-standing conflict, 8 million people's lives depend on assistance for water and sanitation services; half of them are children and youths.
UNICEF has appealed to the international community for a 479-million-dollar support for their efforts in Yemen, but only 40% has been raised so far. If an additional 30 million dollars is not raised by the end of this month, assistance will be cut for four million people.
UN NEWS: https://news.un.org/en/audio/2020/06/1066212
27th May 2020 21:00
The health system in Yemen was already weak due to the long-standing conflict in the country, but now with the spread of COVID-19, it has become near collapse, according to the warning by the UN Office for the Coordination of Humanitarian Affairs (UNOCHA). As of 22nd May, there have been over 180 cases with over 30 deaths (WHO). Since testing has not been sufficient, there are concerns that widespread communal transmission is possibly already taking place. Personal protective equipment is urgently needed, and half of the health facilities in Yemen are not fully functioning. UN is calling for support from the international community as the country's health system is on the brink of collapsing if infection spreads at this pace.
UN News: "Yemen: Coronavirus transmission likely widespread, decimating 'collapsed' health system, UN warns" https://news.un.org/en/story/2020/05/1064742
10th April 2020 20:22
Yemen is a country in which JPF has been implementing a humanitarian crisis response. While the conflict is still ongoing in the country, the international coalition led by Saudi Arabia has declared a two-week ceasefire to prevent the spread of the new coronavirus (COVID-19).
There have not been any reports of COVID-19 spreading in Yemen yet, but as the country's healthcare system is near collapse, they are especially vulnerable to the pandemic. About two weeks prior to this declaration, the United Nations had called for an immediate ceasefire to protect the lives of the Yemeni people, who live in one of the poorest countries in the world.
Read more here on UN News: https://bit.ly/34D4DHo
25th March 2020 22:00
It is said that Yemen has regressed 21 years in its development due to the prolonged civil conflict. As a JPF grant project, JPF member NGO International Children's Action Network (ICAN) has been providing emergency food assistance to the people affected by the conflict on the western coast of Yemen. At this time, their food distribution has been picked up by Yemeni television. It is only in Arabic, but you can see their work starting at around 29:10; you can even see ICAN's and JPF's logos, too. Please take a look at how the local people are living now in Yemen.
The video can be watched here: https://www.youtube.com/watch?v=G0bYc-Lfgec&feature=youtu.be
ICAN's article can be read here: https://www.facebook.com/ICAN.NGO/posts/2812175615567016
24th February 2010 11:00
At JPF, we provide assistance to Palestinians living in Gaza and also to Palestinian refugees who have left Palestine. For instance, there are Palestinian refugees who have fled to Syria first, but when the conflict intensified there, they have fled again to Lebanon.
JPF member NGO CCP Japan (CCP) has been providing educational, health, and psychosocial support in Lebanon for Palestinian refugee children and their families as well as for the host communities.
The other day, through CCP, we received gifts for the relief organizations in Japan from Palestinian children living in host communities in Lebanon. We were touched to receive such heartfelt gifts from children despite their displacement! In partnership with our member NGOs, JPF will continue to provide assistance as we work closely with the local people to meet their needs.
20th January 2020 12:00
Food assistance in Yemen ©ICAN
Last December, UNDP hosted and JPF supported the Expert Conference on Yemen, at which experts spoke about how Yemen has regressed in its development by 21 years due to the ongoing civil conflict that has now endured for more than four years. In fact, many Yemenis still have no other choice but to rely on life-sustaining external aid. About 20.1 million people lack food, about 7.4 million of whom are malnourished (as of February 2019).
Currently, JPF member NGO International Children's Action Network (ICAN) is working in Taiz Governorate, Yemen, to meet the greatest need there by providing food.
ICAN's report can be read here.
13th December 2019 19:10
Participants at the expert meeting ©JPF
On Dec. 13 (Fri), the United Nations Development Program (UNDP), with sponsership from Japan Platform (JPF), held an expert meeting on Yemen at the JPF office. The nine who people participated, including UNDP staff members, Yemen researchers, and others working in development and humanitarian affairs, engaged in lively discussion.
At the beginning of the meeting, Auke Lootsma, UNDP Resident Representative in Yemen, introduced the current situation in Yemen, where four years of prolonged conflict is said to have reversed the state of development by 21 years, and issues going forward.
After that, there was discussion on various topics including funding issues for humanitarian aid and development aid within Yemen, the impact of the conflict on civilian lives, and what aid and cooperation is required from the international community including Japan as Yemen heads towards conflict resolution in the future. It was very meaningful to think about how to deliver aid to Yemen going forward.
Starting this year, one of the priorities for the JPF Response Program for Yemen Humanitarian Crisis was to deliver aid that serves both humanitarian and development purposes as much as possible, while also delivering emergency relief. However, there have been many challenges in putting this into practice. Utilizing the insights gained from this expert meeting, JPF will continue to search for the best way to assist Yemen.
31st October 2019 23:00
According to the October 2019 United Nations High Commissioner for Human Rights (UNHCR) Yemen's October Operational Update, in the community hosting internally displaced persons (IDPs) in Sana'a governorate, IDPs were burning materials they found at a waste site to stay warm. Consequently, there were many in the community who were suffering from respiratory illnesses. UNHCR is urging implementation partners in the health cluster to intervene soon.
Additionally, for Global Handwashing Day on October 15, UNHCR has distributed soaps to 184 students in three schools in Aden governorate, and also distributed soaps to over 7,000 refugees at Kharaz Refugee Camp in Lahj governorate to encourage handwashing and hygiene.
Please find the full UNHCR report here:
https://reliefweb.int/report/yemen/yemen-unhcr-operational-update-25-october-2019?fbclid=IwAR3Lv3lA8EIe9qme8fmX8MdsdIrx3ZJIPNo9Gd2Rn0TAmb_JnIbDoA1v2Nk
11th September 2019 19:30
Children attending preschool in the camp ©JPFF
Four years have passed since the civil conflict intensified in Yemen in March 2015, and 24.1 million Yemenis, or 80% of the population, still need to rely on external assistance to sustain their lives. Around 20.1 million people face food shortages, 7.4 million of whom are suffering from malnutrition. At JPF, we continue to provide the most highly needed assistance in the food and WASH (water, sanitation, and hygiene) sectors, while also offering education and livelihood assistance programs to support those who are trying to get back on their feet despite the oppressive conditions.
The 2018 Annual Report includes descriptions of our domestic and overseas programs including our Yemen program. Please find more details here: https://www.japanplatform.org/lib/data/report/2018_ar.pdf
26th August 2019 19:30
Nasra ©CARE
JPF member NGO CARE International Japan (CIJ) is a member of CARE International that provides humanitarian assistance in over 90 countries around the world. Today, we will share with you a story from Yemen that was originally published as part of CIJ's news release. CARE has been active in Yemen since 1993, mainly working in the provision of economic empowerment among women and youths, WASH (water, sanitation, and hygiene), and food. (*CARE's program in Yemen is not a JPF grant project.)
One morning, Nasra was about to leave her home with her grandchildren after having breakfast together as a family. It was supposed to be the start of another normal day, but suddenly a bomb was dropped on her house and her son and two grandchildren were killed. She could only pack clothes in her bag, and she ran amidst the bombing, barely reaching the local hospital.
Nasra and her family now only have female members. They have rented a house for security and to ensure privacy; they are receiving assistance to survive. However, Nasra and others like her, who have experienced psychological pain and loss, have not lost hope. She says, "What keeps me going despite the sadness I feel everyday is my granddaughter. When I look at her, I am reminded of my son. My wish is that she would have a bright future ahead."
CIJ's news releases can be found here: http://www.careintjp.org/news/a/yemen_story_2019.html
29th July 2019 22:00
On 19th July, UNHCR, the UN Refugee Agency released an update on their operations for Internally Displaced Persons (IDPs) in Yemen. The UNHCR-led Camp Coordination and Camp Management (CCCM) Cluster in Yemen is providing oversight and up-to-standard service delivery for sites hosting IDPs. About 30% of the displaced in Yemen, or 1.2 million people, are living in various settlements, but so far only 1,345 sites hosting IDPs have been identified. These sites house only 440,000 IDPs or 65,583 households. There are ongoing assessments to locate the rest of the settlements and to provide standardized services to all IDPs in the nation.
The update also mentioned how the displaced families who had spontaneously settled in private lands in Aden, Abyan, and Lahj governorates are facing evictions from landowners. UNHCR is working with government authorities to identify alternative settlements and expand approved IDP hosting sites so that dispersed families can gather on official IDP hosting sites. Since 2018, seven new IDP sites have been established in these three governorates, and currently about 1,200 households live in a total of 46 sites.
Read the UNHCR Report here: https://reliefweb.int/.../yemen-unhcr-operational-update-19-j...
30th June 2019 23:00
On 21st June, United Nations World Food Programme (WFP) released a statement that they will partially suspend delivery of aid to areas of Yemen that are controlled by Houthi opposition forces, including the capital city of Sana'a. This is a result of multiple failed attempts to bring food aid to those most in need.
WFP Spokesperson Hervé Verhoosel said, "In conflict areas, food is diverted away from the vulnerable who   most need it, and while WFP has been seeking the support of the authorities in Sana'a to introduce a biometric registration system that would prevent diversion and protect Yemeni families so that we can ensure that the food reaches those who need it the most, unfortunately, we have yet to reach agreement."
850,000 people could be affected by food aid being cut to the capital region. Meanwhile, WFP insists that it will maintain nutrition programmes for malnourished children, pregnant women, and nursing mothers.
Read the WFP Report here: https://news.un.org/en/story/2019/06/1041021
12th May 2019 22:00
On 23rd April, United Nations Development Programme (UNDP) reported on the findings from their study that the conflict in Yemen has resulted in reversed human development in the nation. Auke Lootsma, UNDP Yemen Resident Representative, stated, "Human development has not just been interrupted, but has been reversed, and even if there were to be peace tomorrow, it could take decades for Yemen to return to pre-conflict levels of development."
The UNDP study reviewed the impact of the conflict on various dimensions of human development including demographics, the economy, infrastructures, health, and education, through comparing three modelling scenarios against a hypothetical scenario where the conflict did not escalate after 2014. For the scenario where the conflict ends in 2019, development gains were set back 21 years. Likewise, if the conflict ends in 2022, the set back was 26 years, and if it continues until 2030, there would be 40 years of setbacks.
Read the UNDP Report here : https://bit.ly/2JwR02y
26th March 2019 19:30
Children, who had given up on schooling after air raids destroyed their schools, regained their chance to get an education at the learning support center, and are seen studying with their classmates ©Ali Ashwal / Save the Children

A girl, who had forgotten how to read and write while unable to attend school for three years, regains literacy at the learning support center and presents in front of her classmates ©Ali Ashwal / Save the Children
Yemen is currently facing what has been referred to as "the worst humanitarian crisis since the end of World War II." Four years have passed since the Yemeni authorities and anti-government forces clashed in March 2015, but about 80% of Yemenis or 24.1 million people are dependent on external assistance to sustain their lives.
According to UN reports, about 1,800 children have lost their lives due to indiscriminate air raids. Children have also been seriously impacted when they are forcefully recruited as combatants. Furthermore, schools and other educational infrastructure have been decimated, so there are difficulties in delivering instruction for the children.
At JPF, in partnership with our member NGOs, we are providing educational assistance - including restoration of educational institutions that have been destroyed and distribution of school supplies - so that the children, who play a vital role in Yemen's development in the years to come, can safely attend school today.
25th March 2019 19:30
Yemen is currently facing what has been referred to as "the worst humanitarian crisis since the end of World War II." Four years have passed since the Yemeni authorities and anti-government forces clashed in March 2015, but about 80% of Yemenis or 24.1 million people are dependent on external assistance to sustain their lives. Additionally, out of 333 districts in Yemen, as many as 230 are experiencing serious food shortages, which has resulted in residents facing hunger as well as malnutrition, infectious diseases such as the cholera, and other life-threatening situations. Those who have lost their livelihoods due to this prolonged conflict are barely surviving under difficult conditions where they do not have consistent access to food.
At JPF, in partnership and cooperation with member NGOs, we are providing assistance in food provision and livelihood recovery for those who are most in need in Yemen where over 20 million people face life-threatening conditions due to severe food scarcity.
16th March 2019 22:00
Residents waiting for food distribution ©ADRA Japan

Barber cutting hair as one of livelihood recovery activities ©ADRA Japan
As a JPF grant project, JPF member NGO ADRA Japan is continuing its livelihood recovery project in Yemen. As Japanese nationals cannot enter Yemen due to security reasons, ADRA Japan has partnered with local staff to provide assistance in the country. Local coordinator Mr. Japper has said, "Sometimes activities are delayed because it is difficult to coordinate between local governments and beneficiaries, but once they are started, people steadily work towards rebuilding their own lives and livelihoods again."
Read ADRA Japan's article here: http://blog.canpan.info/adrajapan/archive/1562
12th February 2019 19:00
UN Special Envoy Martin Griffiths and UN Emergency relief chief Mark Lowcock have released a joint statement in which they warned that it is become more and more urgent each day as access to the Red Sea Mills in the port city of Hudaydah has been blocked for over five months. Mark Lowcock, who heads the UN Office for the Coordination of Humanitarian Affairs (OCHA) emphasized, "The UN can make the urgently needed food available to people in need only when we have safe, unfettered, and sustained access to the mills."
World Food Programme (WPF) delivered food assistance to 10 million people in December, but Ansar Allah, or the forces affiliated with the Houthi Movement, controls the vital port of Hudaydah and UN has not been allowed access to the mills. A team of UN observers and monitors, who have been mandated by the Security Council and chaired by General Michael Lollesgaard, is trying to negotiate with those in control so that the combatants withdraw from the Houthi-held port city and that aid workers can access the mills to deliver the food to those in need.
Read the UN News here: https://news.un.org/en/story/2019/02/1032381
16th January 2019 19:00
In Yemen, since conflict intensified in 2015, three quarters of the national population or 22 million people are dependent on assistance to live their daily lives. As a JPF grant project, JPF member NGO Save the Children Japan (SCJ) has been providing various educational assistance in Yemen.
SCJ has been providing support for children who cannot attend school for various reasons as a result of the conflict. This includes educational assistance such as substitute lessons at the learning support center or psychosocial support to help children so that they can come to the center. Ablaa is a girl who now uses the center. The school she used to attend was destroyed by the air raid and she had to evacuate. During the following three years, while she could not attend school, she had forgotten how to read and write, but she has now overcome her fear of coming to the learning support center and is in attendance every day.
Ablaa has said, "I was very scared the first day at the center, but after going for a week my fear had subsided. I told my family that I wanted to attend here and have been coming here ever since. What I wish for the most is for this conflict to end. When the conflict ends, I can return to my hometown and see my friends and relatives."
Read SCJ's article here: http://www.savechildren.or.jp/scjcms/sc_activity.php?d=2871
Latest Country Situation Report October 22, 2018
Yemen was already experiencing political instability even prior to the eruption of the conflict in March 2015, but since then, external interventions have added fuel to the fighting between government and those allied to the Houthi rebel movement. As a result, in July of the same year, the Inter-Agency Standing Committee has declared the Level 3 emergency response, placing this crisis at the severest level of humanitarian crises happening in the world today (*1). 18.8 million Yemenis, or about 70% of the estimated total population of 27.4 million, require some kind of humanitarian or protection assistance, while 3.3 million people are acutely malnourished and 4.5 million are in need of shelter and Non Food Items (NFI) (*2). Also, it has been reported that 179,661 Yemenis have fled the country and become refugees in neighboring countries, including 36,162 who have fled to Djibouti (*3).
JPF, along with our member NGOs, has been carrying on this emergency humanitarian assistance program focusing on food and NFI distribution, provision of safe water, improvement on malnutrition, and other life-saving&sustaining actions intended to meet the most desperate needs among the people in Yemen and Djibouti who have been affected by the conflict.
※1:IASC, https://interagencystandingcommittee.org/iasc-transformative-agenda/news-public/l3-iasc-system-wide-response-activations-and-deactivations
※2:OCHA, Yemen: 2017 Humanitarian Needs Overview (November 2016)
※3:UNHCR, Yemen Regional Update no.41, July 2016
FACTS
69% of the total population in Yemen, 18.8 million people out of 27.4 million, are estimated to be in need of some kind of humanitarian or protection assistance, including 10.3 million who are in acute need(*1)

14.1 million people are food insecure, including 7 million people who are severely food insecure. (*1)

14.5 million people need support to meet their basic water, sanitation and hygiene needs. (*1)

4.5 million people require services to treat or prevent malnutrition, including 4 million in acute need.(*1)

More than1,600 school remain closed and approximately 2 million children are out of school. (*1)

More than 179,661 people have outflowed from Yemen to the neighboring countries since the escalation of the conflict. (*2)

36,162 people have moved from Yemen to Djibouti and more than 19,000 are Yemeni. (*3)
(*1) Yemen Humanitarian Needs Overview 2017 http://ochayemen.org/hno-2017/
(*2) UNHCR, Yemen Regional Update no.41, July 2016
(*3) UNHCR Yemen Regional Refugee and Migrant Response Plan http://data.unhcr.org/yemen/regional.php
Accessed on 19th April 2016
OUR PROGRAMME
With the JPF funding,
ADRA Japan is providing food, WASH and nutrition assistance in Yemen.
ICAN is implementing food and NFI distribution project in Yemen.
Child Friendly Space was provided by ICAN at Markazi camp in Djibouti. (the project completed)
NGO's Project : ADRA Japan(ADRA)
Delivering assistance to IDPs and exhausted host communities in locations where aid tends to be insufficient.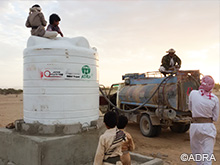 Since December 2015, ADRA Japan has been delivering assistance to IDPs as well as residents of host communities that tend to become vulnerable including children and women. The content of their assistance includes distributing food, counter-measuring malnutrition in infants and toddlers, distributing hygiene kits and supplying water. ADRA Japan has been working in the Al Jawf and Ma'rib Governorates in northern Yemen, where there tends to be a lack of aid with few humanitarian aid organizations present despite the existence of many people requiring assistance. ADRA Japan partners with ADRA Yemen to provide assistance, and has assisted a total of approximately 8,000 households and 72,000 people in fiscal year 2016. With there being no end to the conflict in sight, it will continue to deliver assistance.
Voice from the Field
I know how to wash my hands because we received a hygiene kit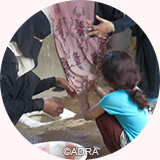 Hamas used to live in the Al Khalq District of Al Jawf Governorate in Yemen with her father, mother and younger sister. Her family felt threatened by the armed conflict and fled to the governorate's capital, Al Hazm. They had only brought with them a handful of money and clothes, and they began living in an abandoned house. Due to the outbreak of cholera across the country, it has become increasingly important in Yemen to maintain good hygiene practices at home. For these reasons, Hamas and her family received a hygiene kit from ADRA that included buckets, soap, detergent and shampoo. Later, an ADRA staff member that visited her home for monitoring asked Hamas if she knew how to wash her hands. She said yes and showed this staff member how she does it.